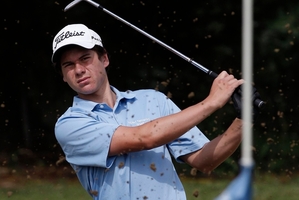 Two Northland golfers are in good shape after round one of the New Zealand Age Group Championships in Christchurch.
Former Kaitaia golfer Sean Masters and New Zealand Amateur Champion Kadin Neho, of Tikipunga, remain in touch with the leaders as they sit two and three shots back respectively.
Neho, who helped Whangarei Boys defend their New Zealand Secondary Schools title on Monday at Templeton, opened with a four-over par 76 to be three shots back in a share of 10th place on Wednesday.
Meanwhile, Masters, who is playing for Otago while he is at university, fired a first-round 75 to be fifth equal.
Leading the pack was Royal Wellington's Brayden Mazey and Royal Auckland's George Helsby who handled the brutal conditions at the Harewood Golf Club the best.
Mazey and Helsby opened with rounds of one-over par 73 in the sleeting rain and bone-chilling southerly wind to earn a one-shot lead from North Shore golfer Chang-Gi Lee and Rotorua golfer Peter Lee.
Mazey, still shivering after braving the cold for over four hours, was happy to be off the course in conditions that never got above 7C and felt like 2 or 3C for most of the day.
The New Zealand Age Group Championship has proved to be an important stepping stone for Australasian golfers with names like Greg Turner (1981), Michael Campbell (1987), Michael Long (1988), Adam Scott (1996), Steven Bowditch (2000) and Jason Day (2004) on the trophy.
It is a three round stroke play event that concludes today.
NZ Age Group Championship
Scores after Round 1:
73 George Helsby (Royal Auckland), Brayden Mazey (Royal Wellington).
74 Peter Lee (Rotorua), Chang-Gi Lee (North Shore).
75 Dale Williamson (Australia), Sean Masters (Otago), Harry Hillier (Te Puke), Tadhg Campbell (Muriwai), Max (J) Gill (Hastings).
76 Dominic Brettkelly (Hororata), Oscar Cadenhead (Clearwater), Nick Coxon (Narrows), Matthew McLean (St Andrews), Jack Leenards (Manawatu), Kadin Neho (Whangarei).