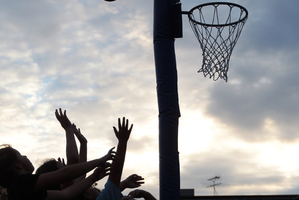 Possession and greater shots on goal were a key factor in Takahiwai 1 emerging as the 2013 Premier Reserve champions with a 51-42 win over Hot Printz Wahine Toa 1.
Both teams were anxious for the win and there was only a goal in it at the first quarter with Takahiwai leading. By half time the score was all locked up at 25-all. At the end of the third quarter Takahiwai had pulled ahead by three and then had a big final quarter to win by nine goals.
Overall Takahiwai put up 64 shots compared to Wahine Toa's 49 shots showing that Takahiwai had more ball possession overall.
Takahiwai's Francida Doak (goal keep) was strong in her pursuit of the ball and used her experience and maturity to block out the Wahine Toa shooters.
Kaylah Chapman (goal defence) ably assisted the defensive effort and was strong with bringing the ball through the court including some big high ball into the shooters.
Ann Marie Lambly (wing defence) also made a big defensive contribution.
Ramari Pirhi (goal attack/goal shoot) was the most consistent shooter at 87 per cent. For Wahine Toa 1, Renee Himiona, Rita Himiona and Luana Beazley Tango all contributed to the defensive effort and moving between goal keep, goal defence and wing defence. At the other end of the court, Maria Dick (goal shoot/goal attack) was the best of the shooters with an 89 per cent return.
In the other playoff games third played fourth - Manawanui Collegiate Red v Craig's Firestone Marist and fifth played sixth - Active Refrigeration Fideliter v Manawanui Social.
Manawanui Collegiate Red had a good first half against Craig's Firestone Marist and led by 10 at half time. Over the remaining two quarters Marist were able to gain a bit of momentum but Manawanui Collegiate Red did enough to take win 45-38.
Active Refrigeration Fideliter 3, after a bye last weekend, were back eager for a win, started well and led the whole game. They won three of the four quarters but Fideliter 3 led by five goals at half time and they won 39 goals to 34.