Linda Clarke hears how a Mid Canterbury business is helping keep animals healthy.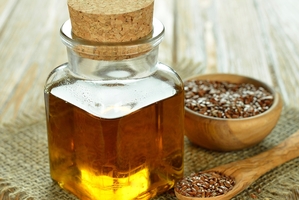 The health benefits of flax seed oil are well known in the nutritional world and family-owned Ashburton business Fourflax is making sure animals don't miss out either.
The sterling work by Fourflax making animal health products from linseed resulted in the company being shortlisted recently for the small enterprise retail category of the Champion Canterbury Business Awards.
Its success has also put Mid Canterbury on the map, as linseed crops grown almost exclusively in central Canterbury are processed in Ashburton and products sold around New Zealand and Hong Kong, Australia and the United Kingdom.
Flax seed oil, or linseed oil, is valued for its high Omega 3 content. It is known to have anti-inflammatory properties and is said to have health benefits for the circulatory, digestive and immune systems. It is great for skin and hair, something humans have known for years, and is also a fantastic supplement for joint and muscular health. Those same benefits are being offered to cats, dogs and horses in animal health products made by Fourflax.
The crop is grown under strict supervision in Mid Canterbury and seeds from the Linum usitatissimum crop are pressed at the company's Dobson St facility, packaged, and then sold online, at 233 stores around New Zealand or exported.
The crop has stunning blue flowers prior to harvest.
A special feature about Fourflax products is their traceability. Each retail product label carries a code which the consumer can use to trace their product back to where it was grown, and see pictures of the seed's growth stages on a website. The company was founded in 2010 by directors Daryl Prebble and Debbie Swift, after they saw a gap in the animal health market. They found that many animals were suffering from health issues including joint problems, skin allergies and irritations - just like people. Fourflax is an offshoot of parent company Bio Oils, set up 26 years ago by Daryl's father Gavin.
Bio Oils is the largest producer of cold-pressed, New Zealand-grown flax seed oil and fibre in the country and supplies the food, supplement and cosmetic industries.
Sales manager Jenna Swift says it is the quieter time of the season now, and Fourflax is looking forward to the start of the busy equine show season, with Daryl on the road contracting farmers to grow for the 2014 harvest.
"The crops grow well here. It is Mid Canterbury's high-quality soils that make the difference."
The crops are carefully monitored while they grow and harvested late summer. The seed is stored then cold-pressed and the resulting oil bottled and dispatched. Flax seed oil has a distinct colour, flavour and aroma. It is processed in an oxygen-free environment, with no exposure to UV light, and at low temperatures to ensure quality and freshness without compromising nutrition.
After extraction, oil is allowed to settle naturally, rather than using centrifugal force, again maintaining the integrity and quality of the oil.
Jenna says Fourflax was born after customers approached them saying it was not economical to buy flax seed oil in large quantities for their animals from health food shops - oil prepared for human consumption.
She says the company is proud of its Ashburton roots.
"To this end we support the local Mid Canterbury farmers who grow our crops for us year on year, and are contributing to the local economy.
"Our cold-pressing plant is in Ashburton, and all staff are from the Ashburton district, further supporting the Canterbury economy."