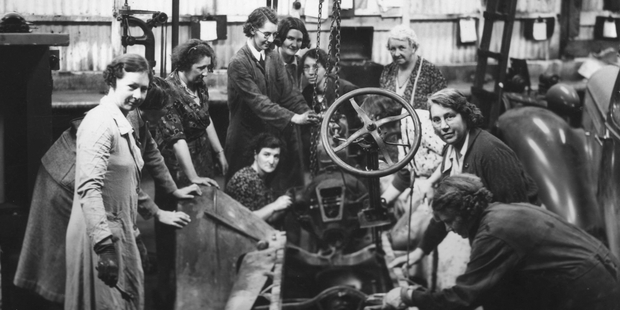 The Red Cross and St John Ambulance assist people around the world.
Now, they have assisted the Northern Advocate in solving the mystery of a wartime photograph published in Saturday's paper.
The photograph, published again today, shows a group of women clustered around a vehicle, tools in hand, circa 1939.
On Saturday, I hypothesised that the group was part of the Women's Land Army, later know as the Women's Land Service, who undertook agricultural jobs while men were away fighting in World War II. Close, but not quite true.
The women are members of the Northland Red Cross Transport Division who manned the Whangarei ambulance station during the war, and drove the ambulances. As part of their training, the division was required to have some mechanical knowledge and this photograph depicts a maintenance session which took place on a 1926-27 Model T Ford at Whangarei Engineering Company (later known as Hatea Motors) in Walton St.
My thanks to Nancy Greenfield who called with this valuable information, that will now be added to the photograph on our files.
Mrs Greenfield is a long-term member of the Order of St John, and is part of a group researching local St John history. So far, the group has confirmed that St John courses were run in Northland from the 1890s, mainly in the Kamo area.
The name "Mrs Edward Bolt" has popped up during research, and readers may be able to help me return the favour for Mrs Greenfield by helping out with any information on Mrs Bolt.