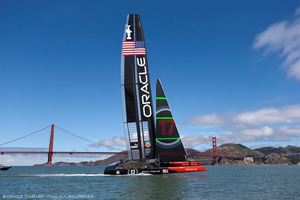 I used to care little for the America's Cup.
Suggest to me that it was something that the entire country should get excited about, and it was like showing a red sock to a bull.
"How could we have a New Zealand team with foreigners in it", "It's all who has the most money - not skill" and "how can a New Zealander quit his Kiwi team and then take the Auld Mug off us?". I'd happily rant to anyone who listened.
Until someone suggested I think of the racing as the Formula One on the water, but under the banner of countries. That slightly changed my mind.
But still, I'd paid only a passing interest in the recent results until I realised we had a chance to win the qualifying regatta. And then I saw Emirates Team NZ carving around a marker in black and white Kiwi glory. At top speed, the catamaran seemed to fly. I stepped closer to the television. Graphics told me exactly how far we were in front, and by how much we were extending our lead.
Note I said "our".
My parochial heart strings had been plucked to the tune of God of Nations, and I am now hooked. Sandy Easterbrook has also played a part, I think, in connecting Northlanders to the Cup.
Sandy and her daughter Suzy were in San Francisco, supporting Suzy's husband Chris McAsey, a grinder on Emirates Team New Zealand's AC72.
Sandy was kind enough to think of Northlanders back home and sent us photos and a story about her family's experience. Like Sue Shepherd did last year, during the London Olympics, Sandy connected us, via the internet, to the other side of the world. Thanks Sandy, and go Emirates Team NZ. If the cup comes "home" it will bring economic and sporting mana with it for New Zealand and Northland. Who wouldn't want that?