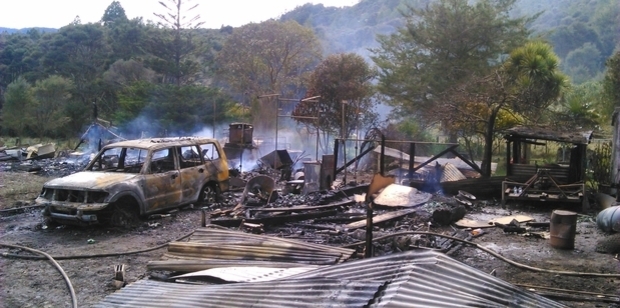 A bomb squad, police and fire investigators continued to sift through the ashes and charred remains of a Far North home where a man died in a blaze following an Armed Offenders Squad callout.
Police expected to remove the man's body late yesterday - nearly two days after the fire - but were not naming him as family members overseas had to be contacted and formal identification had to be completed.
The police Armed Offenders Squad was called to the Mangamuka property, off Maungataipa Rd south of Kaitaia, at 2.30pm on Sunday following reports of a gun being fired. It is believed there was a dispute at the property over a trespass matter.
About 12.30am on Monday a fire was noticed inside the house. AOS members attempted to get inside the house to rescue the occupant but they had to pull back due to a number of explosions.
An explosive device, believed to be a grenade, was later found by police when they entered the house.
Northland police Inspector Kevin Burke said a bomb squad from Auckland continued to search the scene yesterday.
"The scene is proving difficult to process as police need to make parts of the scene safe before continuing with the examination. The fire destroyed the house, but a number of items have been located," Mr Burke said.
Fire investigator Craig Bain said the building had been extensively damaged and those combing through the home's remains had only covered the outer edges of the property and hoped to examine the building today.