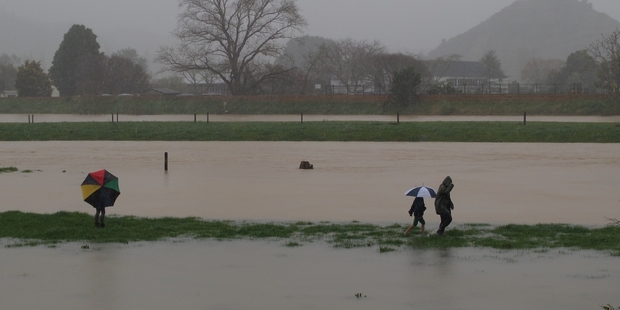 Widespread flooding across Northland could have a sting in its tail - nasty stomach bugs from contaminated water or shellfish.
Northland District Health Board Medical Officer of Health Clair Mills has issued an advisory warning to people in the Far North and Whangarei districts to stay out of waterways, flood waters and harbours to avoid contact with contaminated water. People should also avoid eating shellfish from flood-affected areas because of the risk of viruses.
The advisory follows high rainfall with flooding in the Far North district and low-lying areas of Whangarei district.
Substantial flooding had occurred in the past week, particularly in the Far North, Dr Mills said. As a result, some sewage pumping stations in the Far North district had failed, while sewage had also leaked in Whangarei.
This could contaminate waterways, leading to possible infection when people came into contact with the water. About 500 cubic metres of sewage leaked from the Whangarei system as enormous amounts of water went into the treatment plant.
Septic tanks were known to have overflowed in some coastal areas and the best thing people could do to avoid health problems was to stay out of any flood-affected waterways, Dr Mills said.
Shellfish should be avoided for up to 28 days because they could store viruses.
"Viruses hang around in shellfish for a long while. With things like norovirus and other gastro bugs, shellfish are very good as sucking them up and storing them so we don't want people to risk it."
The public health risk was deemed medium high and swimmers, kayakers and anybody involved in activities which could lead to head immersion should stay out of the water for five days.
Whangarei District Council infrastructure and services group manager Simon Weston said contaminants would be in all flood water, streams, rivers and the harbour after the prolonged rainfall.
"However, particularly in rural areas, private septic tank and effluent holding systems may be vulnerable and, in Whangarei urban areas, some manholes may have surcharged," Mr Weston said.
"The advice is to keep out of the water until it is clear and not to consume shellfish or wetfish caught in the storm area."