More rain forecast in north and east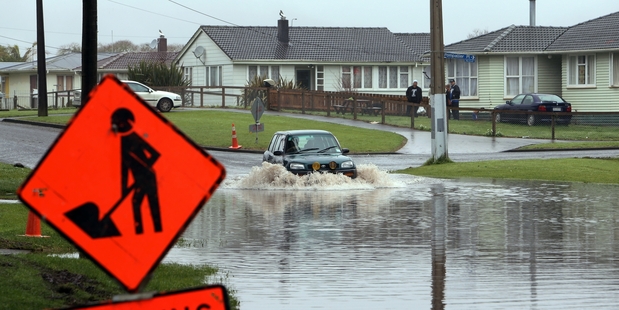 Heavy rain and flooding marked the final weekend of Northland's second wettest winter on record - and there's more on the way later this week.
"Eastern Northland once again got significant totals during the weekend," said MetService forecaster Georgina Griffiths.
Over the weekend, Kerikeri recorded 183mm of rain, Kaeo 215mm, Opua 109mm, Kaikohe 101mm and Whangarei 147mm.
"The west got off much more lightly, with Dargaville only recording 13mm or so, as was expected in the rainfall warning."
The severe weather warning, issued by MetService on Saturday, was lifted yesterday. However, Ms Griffiths said this June-August was the second-wettest winter since records began for Whangarei in 1937, with about 840mm of rainfall recorded. The wettest was winter 1946, in which 1050mm fell between June and August.
Interestingly, that winter followed the 1945/1946 drought, and this year's winter was also preceded by a drought, Ms Griffiths said.
"When the drought breaks it tends to be really evil."
Northland is set to enjoy a reprieve from the wet weather today and tomorrow, but another incoming north-easterly should bring in yet more rain for northern and eastern Northland on Thursday, she said.
Heavy rain affected a number of Northland roads over the weekend. A road was flooded in Otangarei to the point that motorists are going up on the grass berm to avoid the water.
Matai St resident Iain Whitaker was unable to drive his car through the flooded part of the road, and watched someone lose their front bumper over the weekend. "A car just went through and [the water] washed up right up over the bonnet," he said.
"If you don't stick to the middle of the road, you run the risk of running over a rock that kids have chucked in [to the flooded area]."
It started flooding on Friday. "With even a small rainfall, this gets flooded," he said.
State Highway 10 near Kaeo was closed to all traffic just north of the Whangaroa Bridge at 10.30am on Sunday, and the road between Kaeo and the bridge was passable only to trucks and four-wheel-drives.
The New Zealand Transport Authority said the highway was open to all traffic early yesterday morning.
A small slip on the south side of the Brynderwyn Hills also slowed traffic, but it was cleared quickly, NZTA said.
Whangarei police attended a crash at Whareora Rd at around 10.30am yesterday, after a teen male driver spun off the road and down a bank, coming to rest against a tree. He was not injured.
People should stay up to date with the forecast at www.metservice.com