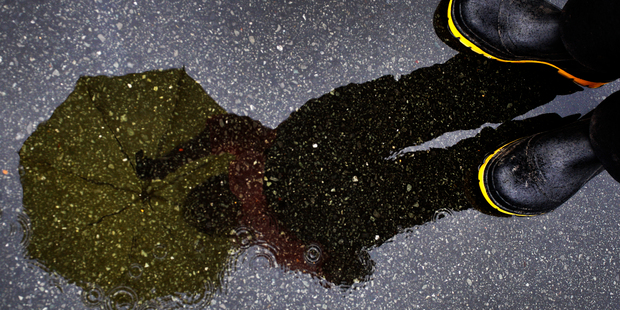 Northlanders are being warned heavy rain of up to 120mm to 180mm forecast between now and tomorrow evening are likely to deliver more flooding and slips to the Far North and the region's eastern hills.

High winds are also likely to feature with the last days of a wet winter expected to deliver severe easterly gales over Northland today and especially tomorrow morning.

MetService forecasters this morning issued a severe weather warning for Northland, predicting the region (especially in the Far North and about the eastern hills) may receive another 120-180mm of rain in the 33 hours from 9am today until 6pm tomorrow.

Graeme MacDonald, spokesman for the Northland Civil Defence Emergency Management (CDEM) Group, says peak intensities are expected to reach 15-25mm an hour, mainly on Sunday morning, or in possible thunderstorms.

He says that comes on top of some rain that had already fallen on parts of the region overnight/early today before the latest warning was issued.

"Given that overnight rain and the fact much of Northland is still fairly soaked on the back of the storms and wet weather we've experienced over the past couple of months, the forecast rain will probably cause some flooding and possibly more slips."

Mr MacDonald says less than an hour after issuing the rain warning today, the MetService had also this morning issued a severe weather watch predicting severe easterly gales.

He says at this stage it appears the wind and rain will be worst over a few hours late tonight and into the early hours of tomorrow morning.
"The winds should ease significantly during Sunday afternoon and the rain is expected to move away shortly afterward in the early evening."

Mr MacDonald says given the recent damaging storms, most Northlanders would be all too familiar with the spots most likely to flood or experience other weather-related problems and would take the appropriate precautions.

He says officials will be keeping a close eye on weather - including new forecasts and warnings - as they come to hand over the weekend and they urge the public to do the same.

Civil Defence will update the public as required, including through the Northland CDEM Group's Facebook page - www.facebook.com/civildefencenorthland
Information about any local district council road and State Highway closures/issues in Northland while warnings are in force will be available from the Automobile Association website via www.AAroadwatch.co.nz
The site contains a map and brief description of closed/affected roads and an indication of when the issue/s involved is likely to be resolved.

Meanwhile, general Civil Defence information is also available from the Northland Regional Council's website www.nrc.govt.nz/civildefence