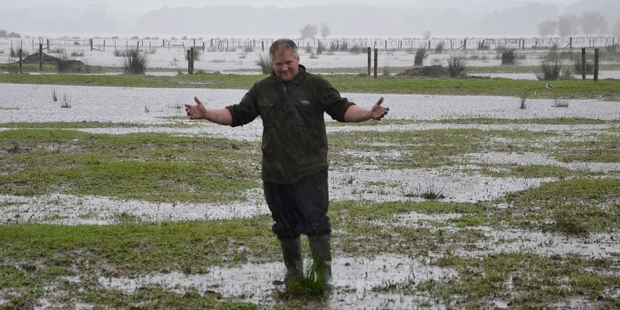 A solution may be in hand for a Far North farmer whose land is still largely under water since last month's floods, with work due to start next week clearing alligator weed from an outlet of Lake Omapere.
Farmers Doug and Chrissy Small still have about a third of their 242ha farm on Te Pua Rd, by Lake Omapere near Kaikohe under water and have been in discussions with the Lake Omapere Trust to try to get a blocked outlet cleared to ease the flood waters.
Lake Omapere trustee Bryce Smith said the trustees would today present a letter to the Northland Regional Council clearing the way for tonnes of alligator weed that is blocking the outlet to be removed.
The letter from the trust's Resource Management Unit - a legal requirement before the NRC can let the outlet be cleared - will be presented in Kaikohe today and it's hoped a representative from Federated Farmers and Mr and Mrs Small will be able to attend too.
"We think that there will be about 12 truckloads of alligator weed to remove, so that shows how much alligator weed there is polluting the lake," Mr Smith said.
"We hope it will start early next week as there's only a small timeframe we can do it in as whitebait season is upon us. The whitebait haven't really started to be caught yet so we have next week as a window and if it can't be done next week we will have to wait until November. So we'd like it done as soon as possible."
The trust had been working with the NRC on the issue and he hoped this would provide a solution to satisfy all the conflicting interests.
Mr Smith said in 2012 the newly elected Lake Omapere Trustees enforced a rahui over Lake Omapere stopping commercial harvesting of tuna (eels). The decision was based on evidence of the erratic behaviour of harvesting by commercial fishers, their lack of consideration for the cultural significance of the lakes attributes, cultural laws, traditional harvesting methods and customary users. Bio-security was also a major issue that the trust constantly had to deal with by all users of the lake.
"Research has shown that the careless safety practices by commercial fisherpersons has been a contributing factor in the introduction, spread and problem of alligator weed within the lake," he said.