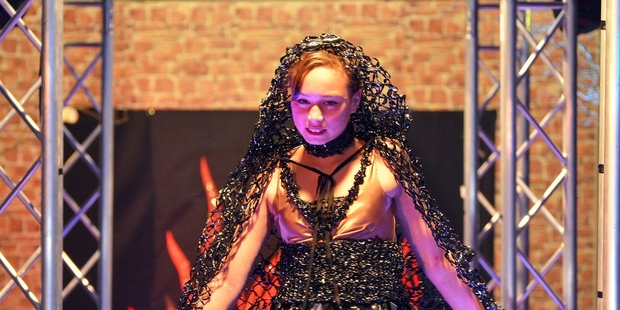 Everything from recording tape, tyre tubes, Lotto tickets and teabags were reborn as fashion garments and wearable artworks on Saturday night for Kaikohe's fifth Winter Festival of Walking Art.
Organised by the Kaikohe Arts Council every second year, it is not a competition but a chance for creative locals and would-be fashion designers to showcase their talent.
Photos: Winter Festival of Walking Art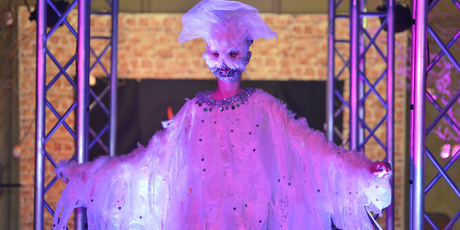 This year's categories were Masks (child and adult sections), Streetwear, the ever-popular Bizarre Bra, Beauty and the Beast (a chance for Kaikohe youth to show their glamorous side) and the main drawcard, Art to Wear.
This year's entries included a costume made from recycled, hand-dyed tea bags, and another woven from video tape.
A 15-year-old Okaihau College student created a dress from magazines and buttons while a Hokianga resident made a futuristic huntsman's costume, called Mad Max Marley, from tyre tubes, rivets, screws and saw chains.
Perhaps the most unusual entry was the cartoon-like, papier mache Lactating Snow Wolf, which supposedly spreads terror from its tunnel beneath the cycleway.
Arts council member Kelly van Gaalen said the audience was down on the 2012 show but the standard of entries was impressive.
"The talent here is massive, and it's untapped. They don't have anywhere to go with it."
The show was not a competition but an opportunity for designers to be innovative without being bound by the constraints of commercialism.
The Kaikohe Memorial Hall was transformed for the occasion by a local florist.