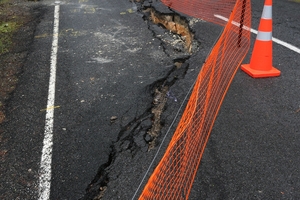 The local soil type called Onerahi Chaos has ensured Abbey Caves Rd now carries a cave of its own and is likely to have one lane closed for several months.
Whangarei District roading engineers have described a large fracture and drop in the surface across half the road as "a significant and complicated piece of damage that will take some time to fix". The damage occurred during heavy rain earlier this week.
"This area is plagued with a soil composition called Onerahi Chaos, a white clay that becomes very unstable when wet," road maintenance engineer Mike Batchelor said.
"We have had at least three other failures on this road in the past 15 years."
Staff are now working on design solutions and hope to have the road repaired by early summer.
"In the meantime, we ask people to use this narrow piece of road as if it were a one-lane bridge," a council spokeswoman said.
Signs have been installed to show who has right of way.