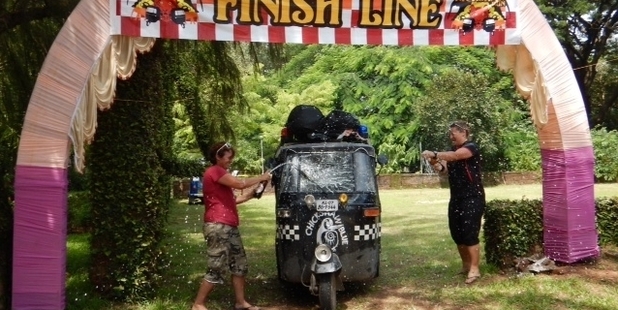 Two intrepid Northlanders have completed the adventure of a lifetime - racing 3700km across India in a three-wheeled vehicle described as a glorified lawnmower.
Houhora police officer Tracee Knowler, Advocate reporter Kristin Edge and their trusty tuktuk reached the finish line at Kochi, near India's southern tip, on Thursday.
They were the eighth team home of about 60 entries in this year's Rickshaw Rally. The race started 15 days earlier in Shillong in northern India.
Ms Edge said there was no fanfare, confetti or cheering crowd at the finish line, but it wasn't needed. They celebrated by spraying their tuktuk with Kingfisher beer instead of champagne and, after weeks of 5am starts, were looking forward to a sleep-in.
The pair had high praise for their "faithful little tuktuk".
"Not even one flat tyre and very few mechanical hitches. On our last morning the little beast started no worries at all after giving us some grief for the last few early morning starts," Ms Edge said.
"Officially we've finished 8th out of a field of 62 starters, so not a bad effort from the Chickshaw Blues team."
The toughest part of the race was driving for hours at time at 10km/h on the roughest roads they had ever seen. The highlight had been the people.
"The people of India have made this a most amazing adventure. Every day we were shown kindness, honesty and hospitality. I only hope we reciprocate this kindness in Northland and New Zealand for our international visitors."
The most memorable moment was seeing the tuktuk heaved up on to the back of a truck by eight men and Ms Knowler. To get to the finish on time they negotiated two overnight truck rides, permitted in the rally rules.
Ms Knowler initially planned to compete in the Rickshaw Rally with an Auckland policewoman. When she needed urgent knee surgery Ms Edge offered to take her place.
In her previous role as a detective in Kaitaia, Ms Knowler dealt with many shocking cases of child sexual abuse. She wanted to find a way of raising money for the victims. Ms Knowler and Ms Edge took part in the rally in their own time and covered the costs themselves. As of yesterday morning they had raised $6671. The money will go to the Miriam Centre to provide counselling for sexual abuse victims in the Far North.
*To donate, go to the web page www.givealittle.co.nz/cause/chickshawblues.