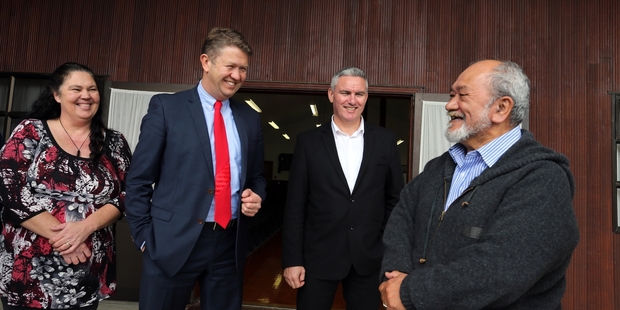 A Labour government will help create regional Maori economic development groups led by iwi and hapu and resolve all Treaty of Waitangi claims by 2020, leader David Cunliffe said in Whangarei this week .
Mr Cunliffe and Labour's Maori affairs spokeswoman Nanaia Mahuta visited Te Punao Te Matauranga Marae at NorthTec on Sunday to discuss the party's Maori development policy.
"Labour is committed to working towards a positive Treaty partnership in the post-settlement era that supports iwi, hapu and whanau to determine their aims, aspirations and success," he said.
"Labour will help facilitate the creation of regional Maori economic development groups led by iwi and hapu, in partnership with business interests and public agencies.
"The scale that can be achieved by Maori entities working together is the key to accessing international trade markets and fully realising the value of Maori business."
Mr Cunliffe said Labour would strive to partner with hapu and iwi to create an environment that encouraged collaboration and innovation. The Ngapuhi Treaty settlement process is well under way and could pour several hundred million dollars into Northland's economy once the claims are settled.
"This strategy will start with Maori entities working together at a regional level and will enable a strategic approach to Maori business development, employment and intergenerational planning," Mr Cunliffe said.
"Labour will explore with iwi and hapu the possibility of working together to establish a Maori innovation and development fund to support Maori business growth and drive a collaborative Maori brand as a part of its economic development strategy."
Ms Mahuta said as part of Labour's commitment to Maori development, it would ensure that all historical Treaty settlements were completed by 2020, tackle inequality by targeting policies that focused on low to middle-income earners and encourage whanau to participate fully in education and life-long learning.