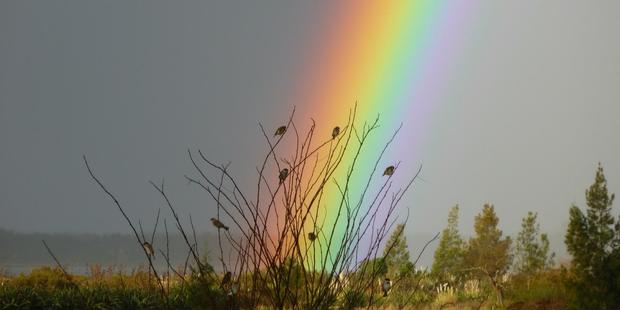 Confused about the changing weather? No wonder.
Northlanders experienced not only record rainfall - the highest recorded in New Zealand - in July, but above average sunshine.
The monthly climate summary for July from the National Institute of Water and Atmospheric Research shows near-normal temperature for parts of New Zealand with exceptional rain in Northland, especially in Kaikohe which recorded the highest reading at 586mm or 311 per cent more than normal since records began for the town in 1956.
The next highest July reading was Kaitaia at 328mm followed by Kerikeri with 350mm - second highest readings for both areas since their records began in 1948 and 1981 respectively. NIWA climate forecaster Chris Brandolino said a combination of strong winds originating in the sub-tropics and warmer than average sea surface temperatures to the east of New Zealand acted like a conveyor belt of moisture resulting in intense rainfall over Northland.
"In low pressure, the air goes clockwise and with pretty strong winds from the sub tropics there was a lot of moisture and fuel for rain and the impact of all this was in areas north of Auckland such as Northland."
He said three-day rainfall totals in Northland equated to a 1-in-60-year event while the rest of the North Island experienced dry conditions with Auckland, Waikato, Hawke's Bay, Taranaki and Wellington recording below normal rainfall.
Kaikohe fire chief Bill Hutchinson and his crews swung into action in torrential rain last month. Mr Hutchinson wasn't surprised with the climate report.
"There's been times when intense rain would fill up the catchment but not over a short period of time as the July rain did, which took five to six hours to clear rather than a couple of hours as was the case in the past.
"Just the intensity and the fact that we were in the line of the weather band and of course the added risk of attending to callouts in floodwaters," he recalled.
Mr Hutchinson said even though it rained for about a week, it felt like it poured down the entire month.
"I think there's strange weather patterns around the world. I've worked in the agriculture sector for 25 years and the weather pattern has certainly changed since.
"Seems spring and summer have moved four to five weeks earlier," he said.
Parua Bay mixed farmer Hugh Rose isn't getting excited about recent weather patterns in Northland which he reckons hasn't shifted enough to make a huge difference.
"However, the contrast (rain and sunshine) was good because for us it meant the grass kept growing and I didn't have to put supplements for the animals yet they were in excellent condition."
Kaikohe also had the highest one-day rainfall at 159.4mm recorded on July 8, followed by Kerikeri at 117mm and Dargaville 81mm.
Record July extreme wind gust nationally was in Kaitaia of 119km/h.
Chill should bypass North
A cold snap set to hit the rest of the country this weekend is likely to have little effect on Northland, a weather analyst says.
Weather Watch's Phillip Duncan said the cold snap -- set to bring more snow to Southland and possibly parts of the Coromandel during the weekend -- will only bring cooler winds and possible showers to Northland for a short time tomorrow.
"You'll just get a shot of colder air [in the morning]."
This is due in part to a high weather pattern aiming towards the region tomorrow, bringing high temperatures of 3C in the lower parts of Northland, and 15C in the upper parts of Northland. Saturday night and Sunday morning lows are likely to be around 3C for rural inland areas and 7C to 8C for coastal areas, with a wide range of lows common in Northland at this time of year, he said.
"Then on Sunday, the temperature warms up [to a high of around 16C], and Monday's going to be even warmer [to around 17C to 18C].
"It's going to be an early spring."
Mr Duncan said analysts are preparing for the chance of a heavy rain event on Tuesday and Wednesday, likely to bring surface flooding.
"We are watching this one but we're not too concerned about it at this early stage," he said.
- Hannah Norton