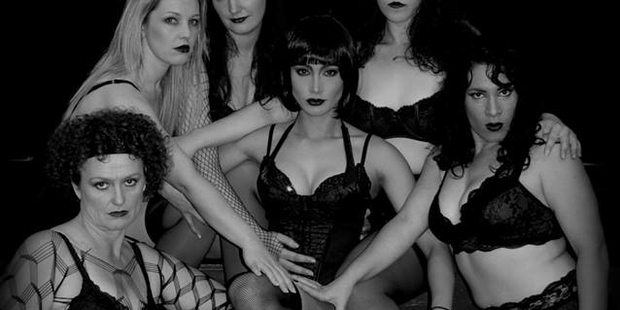 The capacity audience at the preview performance of Chicago, Whangarei Theatre Company's new show last week left the cast in no doubt that this production is a winner.
A standing ovation would probably have been delivered had this not been a bit of a risky manoeuvre in the steeply-contoured Hatea Theatre.
Chicago originated over 80 years ago as a play by a woman court reporter, based on two real-life court cases which exemplified the corruption and celebrity culture of the city's justice system.
The beautiful Roxie Hart and Velma Kelly admitted charges of murdering their lovers but were acquitted thanks to the services of their expensive lawyer and their own self-promotional skills.
Roxie and Velma then learned some hard truths about celebrity - the spotlight moves on to the next big thing and they are out in the cold.
They have escaped death but is life worth living?
Sounds familiar?
So in the show the narcissistic pair - previously mortal enemies - team up to reclaim some celebrity by touring together as "the two murderesses."
Meanwhile, a penniless Hungarian woman who can only say two words - "not guilty" - is hung.
Exuberant and funny it might be, but Chicago is making a point.
Roxie and Velma are the key roles in the show, demanding great voices and sophisticated dance and comedic skill.
Also, they need the ability to take the audience with them despite their gob-smacking selfishness and to switch from wheedling to screeching in a second.
Catherine Hodder and Rachel Diamond deliver on all aspects, with Catherine's expressive face a stand-out.
Also in fine voice is Paul Dickens, authoritative as the shamelessly corrupt lawyer Billy Flynn; Zia Burkhardt, as Matron Mama Morton, but not quite as scary as the screen Mama; and James Mulligan-Hill as Mary Sunshine, the daft radio reporter, who gives a brilliant comic turn with unbelievable high notes.
Robert Perham is an endearing Amos Hart, a role audiences always warm to; although he is so wet as he sings Invisible, Inconsequential Me.
Nobody who is wet comes off well in the brutal world of twenties Chicago.
The chorus sings and dances with intensity and precision, the simple props serve the production well, as does the band, which should cut the volume a bit so as not to drown out dialogue.
Director and choreographer Grant Smith, musical director Ray Palmer, vocal coach Monica Nance and choreographer and dance coach Laura Thomson, supported by a large production team and the band, have done a fine job.
It is extraordinary that all these people have day jobs.
Chicago
A production by Whangarei Theatre Company.
Season: August 1-16.
Venue: Riverbank Centre, Reyburn House Lane.
Bookings: Whangarei Suit Hire.