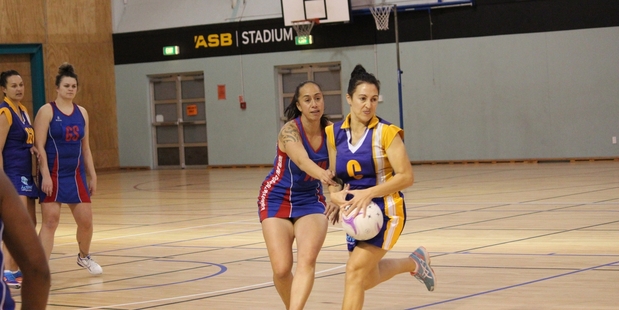 Round Four produced a surprise result with a 38-38 draw between 4th ranked Treewise Marist and 5th ranked Active Refrigeration Fideliter 2.
The game was all tied up at the end of the first quarter only to see Marist pull ahead to be up by six goals at three-quarter time. In the final quarter however Marist were a bit unlucky and undisciplined and Fideliter 2 were able to put some nice phases of play together to bring it back to the draw.
For Marist Hayley Taylor at wing defence got some great intercepts and overall put in a steady consistent effort. There was also tight defence on the Fideliter shooters from Sue Ann Nesbit and Helen Francis.
Kimberly Ruth at centre combined well with wing attack Tracey Whittaker to provide a flow of ball to the shooters. Puawai Shortland at goal attack and Sherryn Schraag at goal-shoot worked the angles in the circle well and shot consistently. For Fideliter 2 Chevayne Hobson was a stand out, ably assisted by Jess Cole at goal shoot.
The other close game was that between Active Refrigeration Fideliter 1 and Helena Bay Whangaruru. This was always going to be the battle of the night with both teams committed and determined for the win.
Fideliter 1 had a narrow one goal lead at the end of the first quarter only to see the game drawn at half time. Then Fideliter 1 had a good third quarter and Whangaruru a particularly low scoring one the result being Fideliter 1 up by nine goals.
Whangaruru made some effective changes in the final quarter and clawed the score back enough to earn themselves a bonus point to be within 5 goals.
For Fideliter 1 Kate Te Whata coming on into goal shoot in the second half combined well with Cassey Cooper at goal attack.
Jo Davis Cooper at centre directed the play in the mid court and Lara Cooper at wing attack helped balance the court enabling fast passages of play. The mid court defence of Nikki Latu and Hayley Tipene disrupted play. Alisha Takimoana at goal keep pulled in some timely rebounds and got some good intercepts.
Manawanui White had a reasonably easy road in their game against WGHS 1 although the young WGHS 1 team did win the third quarter. At half time Manawanui White were leading by 18 goals and they extended their lead by the fulltime whistle.
The finals score was 66 goals to 44 to Manawanui White. This youthful game, despite the score was a lovely game to watch with some quite fast, skilful and flowing netball on display.
For Manawanui White Jaelyn Walker at goal shoot for most of the game was accurate throughout and she moved confidently around the circle creating good space.
Cherith Schraag at goal defence showed flair and speed and applied good pressure outside the shooting circle as well as under the post. Chelsea Grace on at wing defence later in the game and playing up from the collegiate team was a good injection and she got some clean intercepts and stopped the free flow style of the WGHS team.
For WGHS 1 the defensive trio of Jasmine Milton at goal keep, Bella Drinnan at goal defence and Dani Kirby at wing defence pressured the Manawanui shooters. Unfortunately the team squandered some possession in their attacking end and struggled to get into good shooting position to ensure the point.