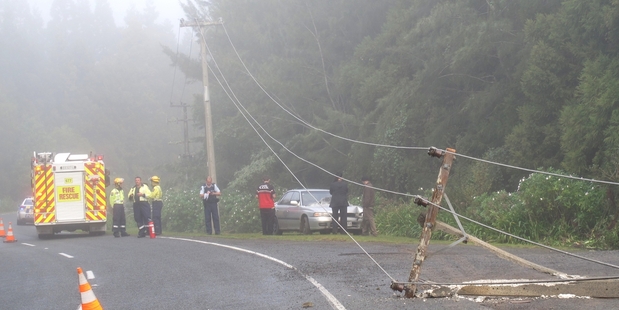 A car crash that cut power to almost 150 Bay of Islands households is a warning about driving to the conditions, police say.
The incident occurred on Puketotara Rd, off State Highway 10, about 9am on Friday when a Subaru Legacy driven by a young Waipapa man skidded off the road and struck a concrete power pole, which landed on the car's bonnet and windscreen. The driver was uninjured, but the smash left live wires suspended across two driveways.
Constable Elco Posthuma, of Kerikeri police, said the driver had been heading towards State Highway 10 when he lost control on a bend and skidded off the wet road. The driver was going too fast for the conditions and was lucky to have escaped injury, Mr Posthuma said.
The crash was a warning to other drivers to slow down, especially on wet, narrow, winding roads. Charges were likely to be laid.
The Kerikeri Fire Brigade sent two crews to help with traffic control and keep the scene safe until Top Energy workers could turn off the power. A Top Energy spokesman said 148 households were affected.