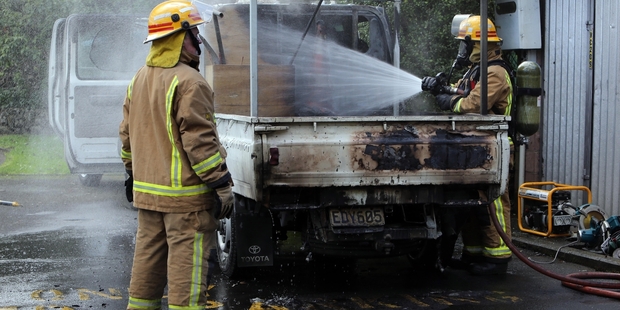 A man was arrested after a light truck was found burning in Laurie Hall Park carpark in central Whangarei, sending a plume of black smoke over the central business district.
A crowd of shoppers, high school students and other onlookers gathered in the park to watch as police arrived and took the man into custody and a Whangarei Fire Service crew put out the blaze on the back of the truck about 2.40pm yesterday.
The 45-year-old man was charged with arson and held in the cells overnight to appear in the Whangarei District Court today.
The burned vehicle is owned by Recreational Services, which carries out park maintenance work for the Whangarei District Council. Recreational Services operations manager Anita Sloot said company staff members had left the truck at the park while they briefly attended a company awards presentation meeting nearby.
Police described the truck as severely damaged. A couple who may have witnessed the alleged drama were helping police with their investigation.