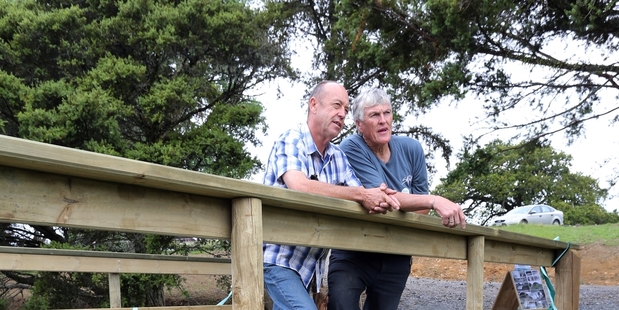 Innovate Northland - Celebrating The Great Idea is a joint awards initiative between the Northland Chamber of Commerce, Northland Inc and NorthTec. As chamber CEO Tony Collins puts it, 'It's all about the idea" and on Friday night winners int he following categories will be announced at the inaugural awards evening. Here is a preview of the entries.
Adding value to primary industry
This category recognises highly entrepreneurial individuals or companies operating in the Northland business community who have developed successful innovative products, processes or services that add value to Northland's primary production sector and are able to clearly demonstrate how the innovation has an economic, social or environmental benefit to Northland.
Industrial Stainless and Design
ISD was incorporated in 2010 to facilitate the purchase of a long established engineering, effluent management and contracting business. Since the purchase, ISD has invested to build upon the 40 years of engineering expertise and products and has now developed a range of modular products.
ISD is now the most technologically advanced and fastest growing provider of effluent management systems in New Zealand with significant export potential. The company revenue for the year ended 31 December 2013 was $2.3 million.
Mills Farm Marina's Apiary
Mills Farm Marina's Apiary Ltd will be the most prestigious and sustainably profitable organic bee venom and associated bee product producer in the world. Mills Farm was named "Clear Waters" by local Maori elders. The company has collected bee venom in New Zealand since 1998 and gained organic certification in 2003 through AsureQuality. Mills Farm Marina's Apiary Ltd is actively involved in the Tai Tokerau Organic Producers Society (TOPIS) and is fully supportive of the TOPIS principles .
Clearwater Crossings limited
Company Directors, Kelly Wright and Steve Swann, both of Whangarei, have invented a low cost stream crossing that does not impact on the environment or encroach or damage the stream bed in the way that culverts do. An engineered, arched, kitset bridging system, with a Class one classification that is locally designed, engineered and manufactured.
FertStation Limited
FertStation is a fine particle fertiliser mixer designed to be used by farmers. This will allow a quicker uptake of fertiliser which will increase pasture growth and will decrease leaching into waterways. FertStation is a new concept business supported by Lawrence Agriculture Dargaville looking after agricultural needs for the dairy sector.
Business not as usual
This category recognises highly entrepreneurial individuals or companies operating in the Northland business community who have developed successful innovative products, processes or services that are able to clearly demonstrate how the innovation has an economic, social or environmental benefit to Northland.
WashBar Ltd
WashBar began when founder Jules Smith was asked to make a bar of soap to help a friend's dog with severe skin allergies. That bar made a huge difference for Jess (the dog) and her owner. It was then that Jules discovered a lack of genuinely natural products for dogs and horses and WashBar was born. From that day, the Whangarei-based business has grown consistently.
Surfline Custom Surfboards
Surfline Custom Surfboards are made in New Zealand with integrity, heart and soul by surfers dedicated to the art of Surfboards, in particular a finless surfboard called a Hot Curl, which does turn the spotlight on theindustry in general.
Roger Hall has been surfing, designing and shaping surfboards for over 40 years. His designs are proudly crafted with inspiration and innovation.
Replicore NZ Ltd
Vintage radiators for Cars and Aircraft.
Their history of manufacturing cores and complete radiators of this type goes back 22 years to the P40E restored by Tim Wallis in Wanaka and first flown in 1992. Since making these cores, they have continued to supply cores to other shell manufacturers but in recent years have progressed to manufacturing complete units themselves. Replicore have successfully completed the first radiator set for the DH98 Mosquito KA114 and it is the first complete build in the world since production ceased at Morris Motors.
Digiblinds
Company owner Paul Whitehead says "After attending a business seminar at the Kingsgate Hotel four years ago, one of the business coaches said to me, "everybody sells blinds, what can you do that could be different". I said that I have had in the back of my mind that printed blinds could be good. The business coach said to me, "that's it". From there Digiblinds was formed. Digital blinds for work spaces and offices are the revolutionary marketing craze sweeping Europe; and thanks to Digiblinds they are now available throughout New Zealand for the very first time.
Tuturu Products Limited
Tuturu Products has two owner/directors, Dianne Pilcher (ex caf owner) and Andreas Kurmann (soil scientist also the owner of Far North Envirolab). Dianne was dismayed by the amount of coffee grounds that were going to landfill when she owned her caf. She sent a sample to Andreas who she knew was passionate about the environment. Andreas analysed the grounds, determined that they would be good for the soil and told Dianne what was needed to add to the grounds to make a good rounded soil enhancer, like woodash, marine products, rock dust etc.
Hebe Childrens Furniture - CMC Design
Using natural and sustainable products to create a unique line of locally made children's furniture for home, schools and daycare centres; Hebe began in 2012 and is now in several ECE centres primarily in Northland and Auckland. With the trend in recent years towards the philosophy of seeing the environment as the third teacher, much more ECE centres are turning to natural, unique products, of which Hebe are one of a small handful of operators that offer such products (most competition are cheap, mass produced products made overseas). Their outstanding feature is their lifetime warranty.
Marine North Ltd
Marine North is a local business that has been in Whangarei for 29 years. They sell and service new and used trailer boats and outboard motors. The increased use of the internet for browsing and purchasing has meant increased pressure on margins and sales. Marine North began working with Blackdog to search for an innovative way to market and distribute the boats. Marine North has become the NZ distributor and is the factory outlet for Blackdog Cat. The idea behind being the factory outlet is based around using the internet, Facebook, YouTube and other social media as the main marketing channel for these boats.
New to Market
This category recognises highly entrepreneurial individuals or companies who have developed their innovation from an original concept and have some form of intellectual property (IP) protection or rapid route to market. The nominated individual or company need not have generated revenue from the innovation.
Scopes NZ Limited
Having been Kaleidoscopes artists for 35 years, they have developed a product to harvest
heat from a flue. Specifically extracting the hot air that is generated between the exhaust gas carrying flue, and the surrounding protective pipe. pipe.atmosphere. This is not a system to transfer heat from one room in a house to another, but instead captures heat that is otherwise wasted.
Sludge Pumping NZ Limited
The Marsden Sludge Pump was conceived, designed, tested and developed by Ralph Calvert, a Mechanical Engineer. Ralph (now retired) was a manager/engineer at the New Zealand Refining Co (NZRC). This development was supported by Marsden Point Construction Ltd (MPCL), a contracting company supplying labour to the NZRC. Ralph developed the pump from his home workshop facilities with local engineering firms manufacturing components as required. MPCL has used the Marsden Sludge Pump for several successful tank cleaning contracts at the NZRC.
Active Attitude Limited
Active Attitude and the idea of getting young people active and developing positive attitudes towards physical activity was developed as part of the Northland Young Enterprise Scheme back in 2006 when Ashleigh McCaw (Owner of Active Attitude) was in her last year of High School. In 2007 Ashleigh developed a kids' fitness DVD and set the goal to go off and study youth sport and physical activity and then come back to Northland to turn Active Attitude into a service based business which delivers fundamental movement (utilising the sports of gymnastics, athletics and swimming) to provide a platform for children to develop key sporting and movement skills.
Dobney Blocks
Dobney Blocks are eco friendly wooden toys that are designed and made in New Zealand.
The toys are a unique inter-locking wooden building block system, which require nothing other than a keen pair of hands to put them together. The Blocks are sold as kits and come with a toy design which can be built and re-constructed over and over again providing endless play and learning.
GreatureNZ
Dodopuzzle is an eco-friendly toy company founded in New Zealand that makes cardboard puzzles that look like a piece of art. It was incorporated in New Zealand on 12 October 2011, and is also trading as Greature Worldwide Co., Ltd. The director of the company, Hoon Kim, has a respectable and successful history as an entrepreneur, and during one of his travels he saw many plastics destroying the environment, and decided to make a toy harmless to nature. Dodopuzzles are able to penetrate into various different markets such as the toy market, museums, art galleries, gift stores and book stores, as it is a puzzle, toy and piece of art at the same time.
Down at the Farm
A family business based in Kaiwaka that came about through the need to create a source of income without commuting. After experimenting with different crops and ideas the Manuka Smoked Salt came into being and proved popular at local markets. We expanded the range and moved into retail starting with cafe's and boutique shops. We are now compliant and ready to expand into larger retail chain stores and possible export. After researching how to smoke different foods we then experimented with different blends and listened to the feedback from customers at market.
Black Garlic Man
Black Garlic Man garlic is the result of a four year long, unaided development which now produces a versatile, quality product that is rapidly growing in popularity.
Further to that the grower who supplies me with the raw product, while not certified organic, certainly farms in accordance with organic principles and I pop out from time to time to monitor progress from planting through to harvest. The high standard of his crop is based on 11 years experience and is grown in naturally fertile volcanic soil. I discovered his quality garlic at the local farmers market, Whangarei in New Zealand's northern region.
Revolutionary Beekeeping LimitedRevolutionary Beekeeping Limited is a NZ registered company that provides innovative and labour-saving beekeeping systems and honey marketing services to beekeepers. Revolutionary Beekeeping was founded in June of 2013 by Grant and Kim Engel in order to commercialise their harvesting device invention after winning the 'Launch NZ Innovation of the Year Award 2013" at the Mystery Creek National Field days.
The mobile honey harvester was developed by Grant after selling their dairy farm in Northland and started beekeeping, only to discover that the traditional honey harvesting technology had not been modernised in decades.
Swordpro
The SwordPro Ultimate, the ultimate in essential game fishing equipment. A multi-use tool in a compact kit to minimise your game fishing equipment while increasing the odds of ensuring your catch lands in your boat.! The SwordPro Ultimate eliminates the need for you to carry six different poles on your boat. It's your flying gaff, large gaff, small gaff, landing net, harpoon and tag and release tools all in one handy combo kit utilising one pole with interchangeable components.
Dream it
Training/Coaching/Mentoring/ Travel business taking normal NZ people to amazing Bucket List/ Epic fitness related events. Having been involved and around athletes, coaches and sporting events it has always interested me watching New Zealand's best athletes prepare for World Class events. The amazing locations and the support systems they have in place, not to mention the fantastic sense of accomplishment and occasional failure, I was intrigued to provide something similar to the average man and women in the street.
Brian Morgan
Brian set up his own engineering business in 1983 with his brother but always had an idea that a bottom dump truck could work better than the tipping truck for spreading metal. He mulled over this idea for a good 20 years but never had the time to develop it due to business commitments and financial restraints. In 2006 the business was sold and during a 3 year restraint of trade and a break from the industry he built a shed at home and spent 2 years turning his idea into reality. He purchased a second-hand truck and adapted it to a bottom dump. An NZ patent has been granted and an Australian patent is pending. He has since completed two more bottom dumps on brand new trucks, which have now been well tested.
mPark mPark is a local company, based in Maunu. Whangarei Council is using its system to offer the public the ability to pay for parking on their smartphone. Simply top up your mPark account with your credit card and then pay for parking as needed using your smartphone. See mpark.co.nz, 1500 registered users.
Handy As Company formed 2012 with the intent to provide inventive solutions to everyday challenges. Both directors are 'ideas' people and their passion is to take one fiddly daily task at a time and find a better way to do it. Evan Davis has a history in engineering, working alongside his father manufacturing tunnel-forming equipment for the Manapouri Dam in the 1970s. Evan's skills mean once the concept is born, he will find a way to create the end product.
Slyd'InHolder
The company has been in operation since March 2014, and was started to take a product idea to market. The Slyd'InHolder Tray can solve some of the problems faced when using normal service trays for service of beverages. These problems include clumsy presentation and potential mishandling during service of beverage to customers, breakage related to accidents, the level of skill required to balance multiple glasses and beverage by untrained staff.