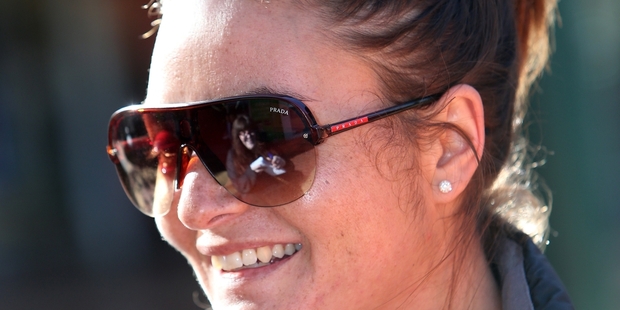 The Northern Advocate has hit the street to see how popular the Commonwealth Games have been with busy Northlanders.
Reporter Alyson Eberle tested interest with two questions - who was New Zealand's flag bearer (shot putter Valerie Adams) and who won the first gold (cyclists Ethan Mitchell, Sam Webster and Eddie Dawkins) - as well as asking how important the Games are in contrast to other sporting events.
Alyson encountered several interesting responses, including one from a 25-year-old Englishman who had no idea the games were on, or what they were - but he finished their conversation a convert.
Polly Barach, 29, from Whangarei, is quite a fan of the Games, answering our first two quiz questions correct, without hesitation. "Yeah I know a lot about the games, I've been watching them and reading about them. It rates pretty high up there for me in terms of sports; I mean it must - I got up in the middle of the night to watch them."
Kylie Hollis, 29, from Tauranga, hasn't watched but is up-to-date thanks to the radio coverage. "I know Valerie Adams carried the flag, and I heard about us [New Zealand] winning gold but I don't know who won or what sport," said Ms Hollis. "It's not really that well-known for me. To be honest, I had no idea what they were or when there were going to be on, it was really poorly advertised."
Tuihana Bryant, 31, from Rotorua, has also been listening to the Games on the radio and knew Adams was New Zealand's flag bearer. "Yeah Eddie Dawkins and two other guys won gold for cycling," said Bryant. "I'll watch more this weekend when I don't have to work, but I don't think they are that important."
Jason Holmes, 54, English expat living in Whangarei, is "not too bothered" with the Games this year, "I've been watching bits of it. I know Ms Valerie Adams carried the flag," said Holmes. "New Zealand got gold for cycling? Right? I don't know too much - it's a low priority for me."
Aaron Kitmore, 25, from England, was stumped as to what the Commonwealth Games even were. "I've not heard anything about it, what is it?" After a quick rundown from Advocate photographer Michael Cunningham, Mr Kitmore seemed a bit more interested in the Games. "Yeah, that sounds like a good thing, I just haven't seen it but it seems good to have all of us [the commonwealth] coming together. I'm not really into sports."
Taiao Kawiti, 17, from Onerahi, scored 100 per cent on our quiz questions but has found it hard to watch the Games while at school and with the time-zone differences. "I actually trained with some of the weightlifters who are over there right now. It's a pretty big event for me; it's this and the Olympics." The games are not just something to watch for Mr Kawiti, "it's one of my goals to someday make it to the Commonwealth games. Hopefully, one day I can go over and compete for New Zealand."
What about you? Are you watching? What has been your highlight so far?