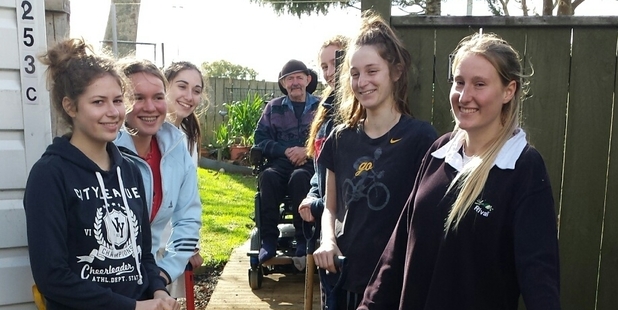 Armed with picks, pitchforks and spades, eight teenage girls have spent a day building a path for a Tikipunga man crippled by motor neuron disease.
The Year 12 students - who hail from Whangarei but board at St Cuthbert's College in Auckland - helped build a path last Thursday so wheelchair-bound 62-year-old Ed "Teddy" Philpott can be transported easily in between his house and car.
The girls were volunteering for Habitat for Humanity Northland as part of the charity's latest initiative to help low income home-owners make repairs or modifications to their home. "It was a pleasure to be given the opportunity to help Teddy," said 16-year-old student Isla Bint.
"As boarders in Auckland we have limited time to do service in our home town, so it was great helping Habitat and making a real difference.
"It was wonderful to see the labours of our work at the end of the day and to know that thanks to our hard work Teddy will soon have proper access to and from his home."
Habitat for Humanity Northland executive director Conrad LaPointe said the girls wanted to do something to help their local community.
"This was the perfect opportunity."
Before volunteering, the girls also raised $1000 for the charity, which Mr LaPointe said would go towards general running costs.
"It is wonderful when people contribute both their time and financially - it's the perfect combination."
Teddy's sister and carer, Christine Atkinson, said the concrete path will make it significantly easier to transfer him between the house and car.
"It's very important he can get out there without any bother. Before we were dragging him across the gravel to get him into the car."
Teddy, who has trouble speaking, suffered a sharp decline in health after the disease struck, she said.
"It was the end of 2012 that he started having problems with a foot that dropped ... it wasn't until January this year that he was diagnosed."
Mr LaPointe said the path was built as part of the charity's latest initiative 'A Brush With Kindness', a new service that provides essential maintenance and repairs to low-income homeowners struggling to maintain their homes.
"It is available to all, with a specific target to disabled and elderly. Work is done at cost and affordable repayment schemes are available at zero per cent interest," he said.
"We believe this to be a valuable service that is to our knowledge not being offered by any other organisation, and feel it can support many local families."
For more information, phone Habitat on 438 2250.