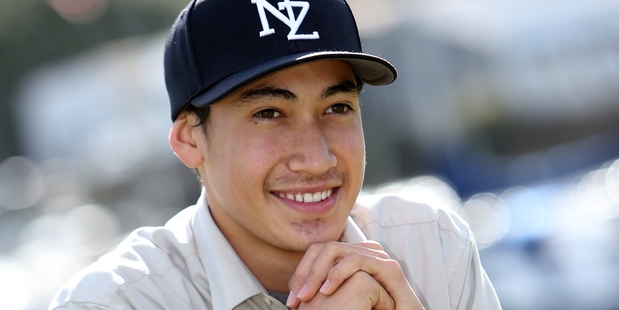 A talented Northland teenager has been selected to take part in international baseball world championship games next week.
Aotea Parata, 15, from Onerahi, is flying out Saturday night, along with 14 other New Zealand teenagers, heading to the United States and Mexico to take part in the Under 15 Baseball World Championships.
The New Zealand team will not have a chance to play together until they have all arrived in Arizona next week, with some players joining the team from Australia and the United States.
In Arizona the team will practise together before heading to La Paz, Baja California Sur, Mexico, for the championship.
"We're a mixed group of people and we haven't been able to play together yet so I'm a bit nervous about the first time we get to play together but I think that is common though and I think we will do well," said Mr Parata.
Moea Armstrong, Mr Parata's mother, is excited about her son's upcoming trip. "I'm totally proud of him, he is quite the athlete. He picks up every sport he is interested in so quickly."
An outfielder and pitcher, Mr Parata has been playing baseball since the age of nine. A fan of the New York Yankees, he is hoping to impress any major or minor league talent scouts attending the championships.
"We have had some scouts from the Baltimore Orioles come once and watch us at the Australasian try-outs a few months ago, I don't know if there will be more talent scouts at these games in Mexico but I hope there are, [it] would be great for us."
Northland Baseball president Paul Allen is very proud of Aotea and is also hopeful he will catch the eyes of international scouts. "Baseball is huge in America, there is going to be a lot of interest in these young players, people are definitely going to take notice of them. And Aotea is an amazing kid, it's amazing that someone from Northland can make it this far," said Mr Allen.
Northland Baseball was established in 2008 and has around 60 players between the ages of 5 and 16. Mr Allen hopes that anyone interested in baseball will get in touch with Northland Baseball. Aotea hopes that baseball may someday be a possible career choice. "I would love it to play ball professionally. It would be great to make some money and help out my family."
Support is strong for the Northland player, with fans logging on to Northland Baseball's facebook page for live updates from Mexico by Aotea.
"I've had heaps of support from family and friends, everyone is really excited for us to do well overseas and have a new experience, and it's great for us to bring baseball to new people here in New Zealand," he said. "I'll be posting about my experience and to keep my family and friends updated on how the team is doing."
If you want to keep up-to-date and follow Aotea and the New Zealand team in Mexico, visit the Northland Baseball's facebook page: https://www.facebook.com/baseballnorthland