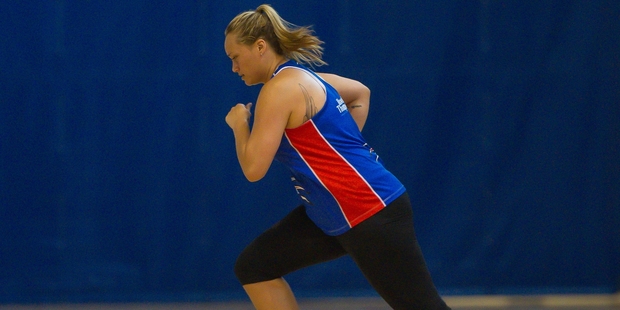 Catherine Latu says it "scares the hell" out of her to be cast as the go-to shooter in the Silver Ferns as they kick off their Commonwealth Games campaign tomorrow (NZ time).
It is a frank admission from the typically blunt goal shoot, but is by no means a concession of defeat.
The 16-test Silver Fern is determined to step up at this month's Commonwealth Games and match the standards set by veteran shooter Irene van Dyk, who stood down from international netball last month after a glittering 20-year career.
Latu was already well on her way to cementing her place as a regular starter in the New Zealand line-up before Van Dyk retired, the Mystics star getting the nod over the second half of last year's Constellation Cup series against Australia.
She also played the full match in the Ferns' 17-goal win over an impressive - on paper at least - England side in January this year. But in each of these starts, she had the safety net of knowing the world's most capped player was on the bench ready to step in if she struggled.
There will be no such luxury in Glasgow.
"It scares the hell out of me to be honest," said Latu of being the Ferns' main shooter, "but at the same time this is what I've been waiting for, so it would be rude and disrespectful to complain about it.
"I've only had some solid court time for about a year, which is about six or seven games, so I'm still fairly new even though I've been around a long time.
"I just need to soak up as much international pressure in the lead-up games and have confidence in myself that I can do the job."
Silver Ferns assistant coach Vicki Wilson said the entire team must have confidence in Latu to deliver under pressure for her to be successful in her new role.
"Cat has got confidence in her own ability, as has the team and I think that is the crux of it - ensuring that her teammates believe in what she can do and they most certainly do," said Wilson.
"The great thing about Irene is she set the benchmark for shooters, and Cat knows people will always be comparing her to Irene and what she was able to do.
"Cat is working really hard to ensure that when it comes to crunch time she can really deliver."
Wilson is confident about the mix she has as far as the team is concerned.