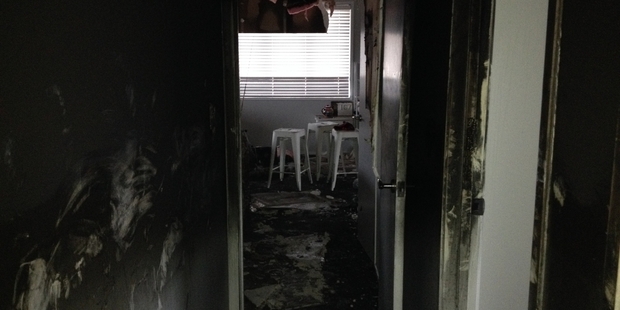 A smoke alarm probably saved a Whangarei woman's life after the device alerted her to a fire in her bedroom believed to have been caused by an electrical fault in a dehumidifier.
Ruakaka Fire Brigade Station Officer Jeff D'Ath said the rented house could not be saved and almost all the woman's belongings were destroyed - but he credits the smoke alarm with saving her life.
The brigade was called to the home in Key West Dr, One Tree Point, about 9.30pm on Saturday after the woman had discovered the fire.
Mr D'Ath said the woman was watching television in the lounge and had closed all the doors to the lounge, bedroom and kitchen.
She heard what she thought was a smoke alarm, but at first thought it was on the TV programme.
However, once she realised it was not on the TV she went to investigate and found smoke in the hallway, which was getting thicker as she neared the bedroom.
Realising the home was on fire she went to a neighbouring home and rang 111.
"She had a dehumidifier going in the bedroom and it appears a possible electrical fault in it caused the fire," he said.
It took the volunteer brigade about 15 minutes to reach the home, but by that time flames were coming from the roof, windows and guttering, but despite the best efforts of fire fighters from Ruakaka and Waipu, the brick home could not be saved.
"It's a write off," Mr D'Ath said.
However, the situation could have been much worse had it not been for the working smoke alarm, he said.
"That smoke alarm probably saved her life. If she had fallen asleep while watching TV and not had that smoke alarm she would have been overcome by smoke and she would be gone.
"But it alerted her and she got out and did all the right things by getting out straight away and not going back in and ringing 111 as quickly as possible."
Mr D'Ath said the woman returned to her home with firefighters early yesterday morning, and while she initially thought everything had been lost, she managed to recover precious photographs of her grandchildren and a few other personal belongings.
But she had been left with only the clothes she was wearing and one cardigan she managed to recover.