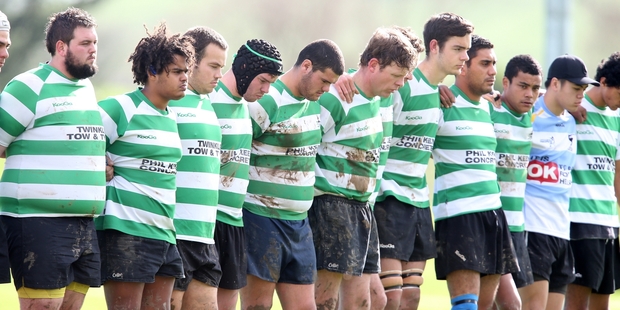 Pita Niha made the trip from Queensland hoping to see his talented grandson Jordan Kemp play rugby.
But instead he was forced to rush to Auckland City Hospital to be at his bedside with other family members before the 17-year-old's life support was switched off.
As the Kemp family gathered at the Maungaturoto Sports' Complex on Saturday to watch Jordan's Otamatea reserves' teammates play Hora Hora, Mr Niha spoke about the pain of losing his grandson through an injury he suffered while playing the game he loved the most.
Mr Niha was supposed to visit his family in Northland last week but his schedule was immediately brought forward after learning of Jordan's hospitalisation just over a week ago.
At Saturday's game both teams observed a minute's silence to remember Jordan, who died from a suspected brain bleed at Auckland City Hospital on July 6 .
"It's a great day for his remembrance.
"This is what Jordan would have wanted," Mr Niha said, while mingling with supporters from both teams who had arrived in large numbers at the ground.
He said Saturday's game had brought a lot of people together to remember the youngster whose passion and commitment for rugby was second to none.
Mr Niha, Jordan's paternal grandfather who works at a mine in Queensland, said Jordan had always kept in touch through Facebook and recalled the last time they met was at a funeral in Hokianga three months ago.
A few days before Jordan was injured, he messaged his grandfather and invited him to come and watch him play.
"He said 'I hear you'll be back next week. We need to catch up. Come and watch me play rugby'," Mr Niha recalled.
"I said okay we'll catch up and his reply was 'awesome popa'."
Mr Niha said he and other family members in Australia kept in touch with Jordan's family in Northland and with doctors at the hospital.
"The surgeon I spoke to at the hospital said he was 'touch and go' and then we started booking flights to Auckland. Ten of us, including his elder brother Joseph, flew out on Sunday and his family waited for us before turning the machine off.
"We'll spend time with his immediate family before the first lot of us fly back on Thursday. His absence is something we all will feel but at the same time we need to move forward," he said.