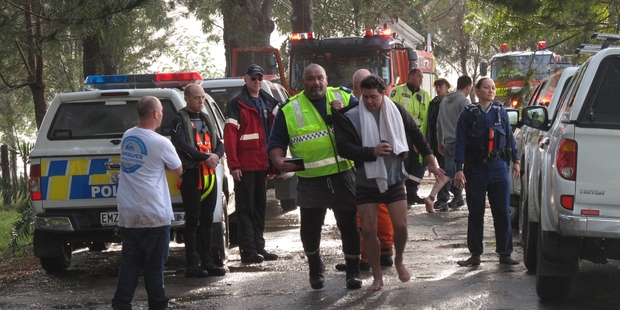 The drowning of a woman in a flooded Northland river was unnecessary and rescuers already stretched by storm-related callouts were hindered by abusive partygoers, say police.
The body of the 28-year-old mother from Wellington was found in willow trees on the banks of the Waitangi River by searchers scouring the area about 10am yesterday. Police had not released her name last night as next of kin were yet to be informed, but it is believed she was visiting from the capital.
Police were alerted to the missing woman about 6am on Saturday following an all-night party at Lily Pond Lane, upstream of Haruru Falls.
About 30 guests had gathered at the riverside home, which by morning was surrounded by swiftly flowing floodwaters, for a "going away party" for a patched gang member on electronic bail living at the house. He is soon to be sentenced on serious drug charges.
Northland police search and rescue leader Senior Sergeant Cliff Metcalfe said the water in the river had dropped yesterday, which allowed police and volunteers to focus on a specific stretch of the riverbank where the body was eventually found.
He said it was a tragic death and totally avoidable.
"People need to take extra safety precautions in storm conditions, especially when crossing floods. Don't venture into them - you just don't know the depth or the strength of the currents," he said. "People need to use commonsense."
Some of the partygoers were trying to drive through the floodwaters when they got out of their stalled vehicles.
One man managed to grab a tree as he was swept downstream towards the raging Haruru Falls. Rescuers riding a jetski eventually plucked him from the flood after the powerful current thwarted early attempts.
The dead woman is thought to have been swept away after getting out of a car stuck in floodwaters. Witnesses reported hearing her screams become fainter as she was swept downstream. Two others were trapped by floodwaters, one on a shed roof, the other on the bonnet of a car.
Mr Metcalfe said as well as trying to search for the missing woman police were kept busy dealing with abusive partygoers, with minor scuffles as some tried to go back to the house.
Eventually police were posted at the end of the driveway to make sure guests were accounted for and could not return once they got through the floodwaters. Rescue helicopter personnel reported receiving verbal abuse and obscene gestures from partygoers.
"Police, fire and plenty of volunteers had been working very hard already due to the storm and they didn't need this unhelpful behaviour," Mr Metcalfe said.
Meanwhile as the region begins to pick up the pieces following severe storms there are concerns some areas may run out of water. Thousands of residents have begun the clean-up operation today as fine weather finally broke through into clear skies and sunshine after a week of wild weather.
The Far North District Council issued a call to all residents and visitor accommodation premises in the Paihia, Haruru Falls and Opua areas to conserve water until further notice.
Water tankers have been placed on standby to bring in treated water. Council building inspectors were also going door-to-door in the Moerewa area to monitor sanitation and other issues created by rising flood waters and septic tanks.
Flooding in the town yesterday forced a number of families from their homes.
Portable toilets and extra rubbish bins were due to be delivered to the area today, and firefighters were also to help with localised pumping.
About 30 farms in Whangarei district's Hikurangi Swamp area had been badly hit by the flooding, with some reporting up to 80 per cent of their property inundated.
- Additional reporting APNZ
Anyone with a flooded home, or who urgently needs accommodation, food, heating, clothing or medical supplies should phone Far North District Council's freephone 0800 920 029.
The Whangarei District Council has a similar service - 0800 932 463.