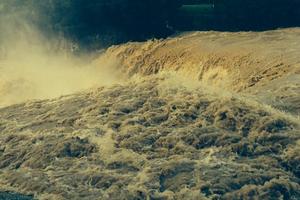 The body of a missing woman in Waitangi river has been found by police.
The woman's body was discovered by searchers just after 10am today about 1km from where she was seen to go into the water.
Police spokeswoman Sarah Kennett said the woman's name would not be released until her next of kin had been notified.
xxxxxxxxxxxxxxx
Emergency services have this morning resumed their search for a missing woman, who was swept from a tree near Haruru Falls in the Bay of Islands yesterday.
The woman in her 20s was swept away while she tried to get back to the house from her partially submerged vehicle at a property near Haruru Falls.
The area was extensively flooded, and there were strong currents across paddocks leading into the Waitangi River.
She was seen hanging onto a tree before she slipped away.
Search and rescue staff executed an air search of the river for her, battling treacherous conditions yesterday, but were unable to find her.
Three other people, who were stuck in trees or on car and shed roofs, were rescued.
This morning teams in boats were searching the Waitangi River.
MetService says the storm that has been battering Northland for several days is expected to be east of the country by this afternoon.