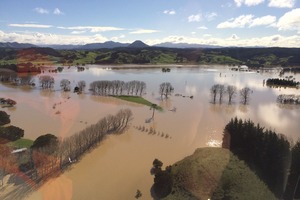 UPDATE 4pm: After a massive effort by lines crews around Whangarei and Kaipara following a devastating storm - less than ten customers will be without power by dusk today.
Lines crews have worked tirelessly throughout today to reconnect power to the Kaipara and Whangarei Districts.
Some were helicoptered into Pukehuia, near Dargaville, where damaged to two poles was detected following an aerial survey.
The faults were fixed following an aerial survey the chopper then touching down at each pole while a three-man lines crew completed repairs.
The area was inaccessible by road due to flooding one local farmer described as the worst in over 50 years.
Lines crews are currently attending to a downed line in Babylon Coast Road, which was still live when discovered in trees a further reminder that people must stay well clear of downed lines.
One hundred customers will be without power for a short time while that is fixed.
A major slip has prevented line repairs at Takatu and Haha Roads, near Twin Bridges.
Meanwhile, another helicopter job is currently underway at the Brynderwyns where a replacement pole is being flown in to rugged terrain.
A replacement pole was earlier choppered in to Parua Bay. That will mean power is shortly restored to customers at Taranui, Telfer and Waiparera Roads.
Northpower Chief Executive Mark Gatland said the effort from Northpower's lines crews and office-based staff assisting with coordination, planning, along with those within the call centre and control room, had been superb.
He also thanked members of the public for their understanding, emergency authorities and local authorities who have assisted throughout the storm.
The company would like people to continue calling Northpower faults on 0800-10-40-40 to advise of outages. People should remain well clear of downed powerlines.