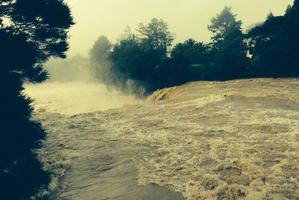 A Wellington woman swept away in flood waters in the Bay of Islands was trying to get back to a house where the occupants had been partying most of the night, police say.
The alarm was raised about 6am today when police were alerted to a woman hanging onto a tree in the flood waters at the Waitangi River, Haruru Falls.
Police believe she was swept away while trying to get back to the house from her partially submerged vehicle.
Northland Police Deployment Manager Inspector Greg Dunn said the area was extensively flooded and there were strong currents across paddocks leading into the Waitangi River.
When Police and Fire arrived at the scene they found another three people either stuck in trees or on top of car and shed roofs.
Police and fire service officers used helicopters, jet skis and inflatable boats to rescue two other people stranded in the floodwaters near the Haruru property where place say he occupants had been partying most of the night.
The Westpac Rescue Helicopter and Skyworks Helicopter and Police Search and Rescue (SAR) staff were called to the property and also lifted one person from a shed roof.
The helicopters and SAR staff have continued an air search of the Waitangi River in treacherous conditions in an effort to locate the missing woman.
Mr Dunn said the woman is believed to be a visitor to the area from the Wellington region.
Victim Support and Police are liaising with the next of kin.
"The incident was managed from the Northland Police District Command Centre and the courageous efforts of Police and Fire staff and local civilians led to the successful rescue of three stranded people," Mr Dunn said.
Police are continuing land and boat searches today for the missing woman and will continue tomorrow if necessary.
The flood waters are now receding.