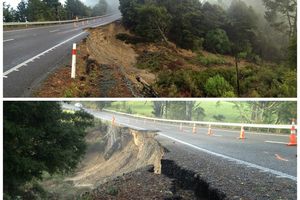 UPDATED 1.45pm: Northland Police are advising motorists travelling south through Morewa that water levels at the bottom of Turntable Hill, just north of the township, are over half a metre deep and only trucks and large 4X4s are able to get through.

There is good signage south of the flooding but none to the north.
Contractors are present warning traffic. Motorists in cars are advised to delay their travel.
There is also still a general advisory in place for Northland for all non-essential travel to be delayed and that those who do need to travel take particular care due to wide-spread surface flooding.
xxxxxxxxxxxxxx
The heavy rain has also washed away a 10 metre-long section of State Highway 1 just south of Kawakawa in Northland, closing the road in both directions.
NZ Transport Agency spokeswoman Jacqui Hori-Hoult said the washout was still moving.
"It is too risky for traffic. We are doing our best to find an alternative route, but the extensive flooding on state highways and local roads in Northland means it is difficult finding a detour that is safe for people."
"We would advise people not to travel unless it is absolutely necessary, and if they do have to be on the roads to take extreme care.
"This storm has led to a lot of flooding and damage across our region."
Care was also need on SH1 through the Dome Valley between Warkworth and Wellsford north of Auckland because of storm damage to the highway, Ms Hori-Hoult said.
Motorists were advised to drive to the conditions, use their headlights, lower their speed and increase their following distances so they had plenty of time to brake safely, she said.
"We are doing everything possible to get highways re-open, but we will only do so when we are sure roads are safe for people to use.
"Many of the closures are in isolated areas and communications are difficult because of the storm. People need to be alert to the conditions, which can change rapidly."
.
Affected roads:
* SH1, Kawakawa to Ohaewai: highway closed by floods; no suitable detour available
* SH1, north of Moerewa: flooding; caution needed
* SH10, Puketotara Road to Waipapa Road: flooding; highway narrowed to 1 lane
* SH10, near Kaeo: highway closed by floods; no suitable detour available
* SH11, Kawakawa to Paihia: highway closed by floods at Lemons Hill
* SH12, near Kaikohe: highway closed by floods at Taheke; no suitable detour available
* SH12, north of Dargaville: highway closed by floods at Rotu Culvert; no suitable detour available