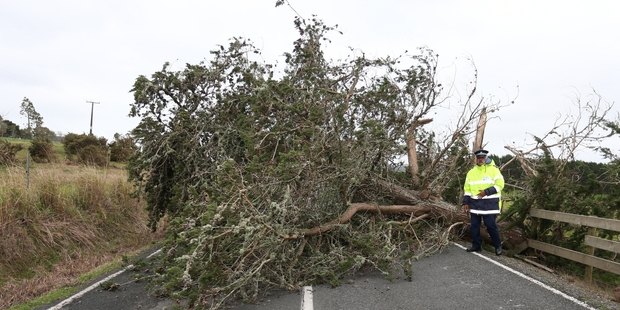 An elderly woman had to be rescued from her home after a massive macrocarpa tree crashed into it and pinned her to her chair.
The woman was trapped in her lounge chair in Kaitaia when the large tree crashed on to her house on Korimako Lane about 4.40pm yesterday as the Far North took the first hit from winds that reached up to 160km/h.
Firefighters extracted her from the badly damaged house and though believed to be miraculously uninjured, she was taken to Kaitaia hospital by ambulance as a precaution.
As the storm continued to rage in Northland, more than 17,000 homes and businesses across Northland were without power yesterday as heavy winds and rain battered the region.
The storm that started lashing the region early yesterday was expected to cause major damage overnight and into this morning, with more strong winds and heavy rain forecast for today and into tomorrow.
Dozens of trees were felled by the wind and at least 28 roofs were torn off in the region.
High winds battered the Far North, bringing down trees and power lines, destroying an iconic dance hall as Houhora believed to be more than 100 years old and causing general chaos in the district. A fire engine had to take evasive action to avoid a falling tree at Waiharara, north of Kaitaia, but no one was injured. Other weather related crashes occurred at Mangamuka and Awanui, where a tourist bus was hit by a falling branch.
More than 17,000 homes and business across the region were left without power from about 9am yesterday.
Top Energy said at 5pm that 9600 Far North customers were without power following the severe storm experienced in the region. Most impacted properties were in Awanui, Kaikohe, Kaitaia, Opononi, Purerua, Pukenui South, Rawene, Russell, Taipa, Te Kao, Totara North and Whangaroa.
Top Energy estimated that around 1100 customers would have been without power overnight, mainly in Henderson Bay, Houhora, Houhora Heads, Hukatere, Kaimaumau, Kaitaia, Kauri Flat, Motutangi, Ngataki, Paparore, Paua, Pukenui, Pukepoto, Te Hapua, Te Kao, Te Paki, Thoms Landing, Waiharara, Waihopo, and Waitiki Landing.
Top Energy expected to be able to reconnect these properties today.
Top Energy had repair crews working all day attending to damage to main feeder lines first, followed by smaller lines and individual "no power" faults.
By late yesterday Northpower reported well over 8000 homes and businesses had lost power, but more outages were expected in Whangarei today as the storm went south.
Northland police were warning motorists to take care on the roads as the storm hit the region overnight. Heavy rain and strong winds were expected to worsen in Whangarei between 2am and 6am this morning.
Northland Road Policing Manager Inspector Murray Hodson said people should stay off the roads if the storm continued into today as expected.
"If you are driving, drive to the conditions and slow down. Remember your following distances, as it's harder to stop in wet weather," Mr Hodson said.
He said strong winds would be particularly dangerous for high sided vehicles and that these vehicles, such as trucks and campervans, should stay off the roads if possible.
Northland Police District Command Centre would be monitoring storm related events over the next 24 hours and deploying staff where needed to assist other emergency services during the storm.
Emergency services feel the pressure - Page 3.