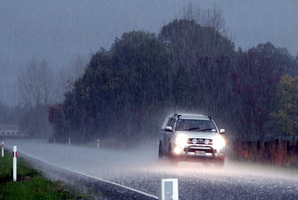 Residents in northern New Zealand are being warned to "expect damage" as a powerful storm bears down on the region.
Hurricane force winds are already battering parts of Northland, WeatherWatch.co.nz says, with reports of a boat on to rocks at Pukenui in the Far North and unconfirmed reports of a tree onto a house near Kawakawa and roofs lifting in Kaitaia.
About 4800 homes are without power in the Far North after strong winds brought down power lines.
A spokesman for Far North lines and power company Top Energy said at 3pm 4800 homes were without power with lines staff working frantically to repair more than a dozen faults that have wiped out electricity.
It was not know how long it will take to restore power to those effected areas, which include Pukenui, Te Kao, Awanui, and parts of Kaitaia.
In Whangarei a tree took down a power line to Helena Bay about 9am today, taking out electricity to 698 homes.
The power was reconnected by 1pm, a Northpower spokesman said.
He said Northpower's linesmen had been sent home to rest ahead of an expected heavy workload this evening and overnight as the storm -- which has brought winds of up to 160km/h in parts of the Far North -- hits Whangarei from about 10pm.