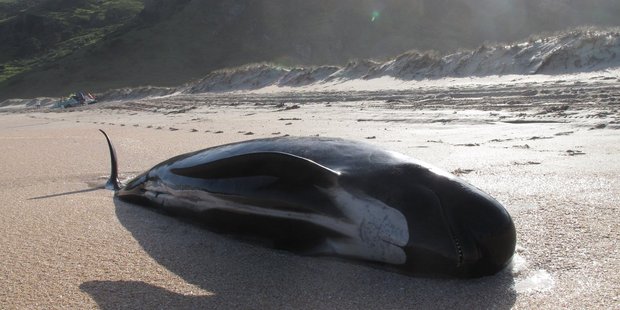 Sonar and seismic surveying for oil and gas off Northland's west coast could lead to more whale strandings and leave some species of whales and dolphins effectively deaf and blind, a marine mammal expert says.
Otago University associate professor of zoology Liz Slooten said she had serious concerns for the safety of whales and dolphins from sonar and seismic exploration for deep sea oil in Statoil's permit zone off Northland's west coast.
International oil company Statoil is preparing to carry out testing in 9,818.88km in the Northland Basin after being granted a permit by the Government, but Dr Slooten said more safeguards needed to be put in place before the company carried out any sonar and seismic testing using air guns.
She said the air guns were the loudest possible controlled noise a human could make in the sea, but they wreaked havoc with many marine mammals.
But Statoil said it has contracted a trained independent marine mammal observer to be aboard the vessel during the survey.
"This is not a requirement, but Statoil is keen to understand as much as it can about the marine life in the permit area," it said.
Statoil has also engaged a third party to undertake a marine mammal impact assessment within the permit area.
That was not enough, though, for Dr Slooten.
"Gray's and Cuvier's beaked whales and sperm whales live off Northland's west coast," Dr Slooten said.
"Beaked and sperm whales are sensitive to seismic sonar explosions for oil exploration that can damage hearing, which whales rely on to navigate, and they can be killed, if they're very close to the sonic explosions."
She said there are three common responses when whales are scared by sonar: fleeing to escape the sounds can push marine mammals into areas of other risks, such as netting; because sound travels further in deep water, whales may head for shallower and shallower water where the sonar noise becomes quiet more quickly, and end up beaching themselves; and beaked whales normally feed 1000-3000ft deep off Northland and may panic and try to surface too quickly.
"This can give them the bends by not being able to depressurise. The worst result is death," Dr Slooten said.
Some species could effectively be left deaf and blind.
Dr Slooten said having observers on oil survey vessels was "virtually useless", with observers only seeing around 10 per cent of whales and dolphins in the area.