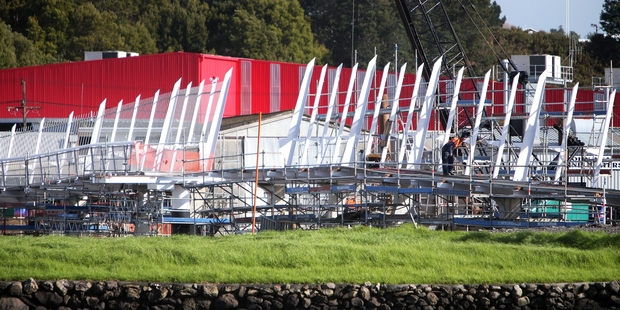 There are a few bridges crossing waterways in Whangarei and the city's newest - Kotuitui Whiti, the bridge across the Waiarohia Stream - will be getting its swivelling section installed this week and next.
The new bridge will complete the Whangarei District Council's loop walkway taking in the Town Basin, Port Rd and Riverside Drive. Walkers and cyclists will be able to use the 4.2km pathway via the bridge, the drawbridge Te Matau a Pohe, and Pohe Island.
A central rotating section will allow boats to continue to use Waiarohia Stream, but the stream is closed to water traffic until July 8 while the swivelling section is installed.
This section installation is a major stage in the development of the bridge.
"The final stages of the build are now under way and we will be installing the opening section of Kotuitui Whiti this week," said the council's group manager, district living, Paul Dell.
"For safety and to allow the opening section to be put in place as quickly as possible, the Waiarohia Stream will be closed for all marine traffic past the bridge site ... through to Tuesday, July 8. Once the middle section is in and tested, the final touches will be put in place in advance of the opening. We hope members of the public will take the opportunity to come out and take a walk, or ride their bikes, around the loop and make the most of this wonderful area."