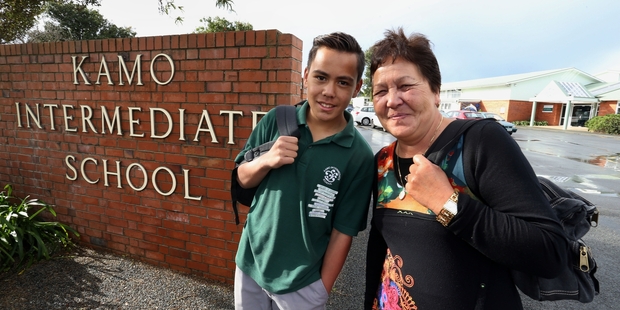 Kamo Intermediate School (KIS) seemed huge to 12-year-old Betty Kaire when she joined a form 1 class as the school opened in 1964.
Betty had bussed in from Ngararatunua, on the northern outskirts of Whangarei, where she had attended a 30-pupil native school, which seemed little alongside the bustling new intermediate school, which had 270 foundation students and 11 teachers.
Betty made friends at KIS, and at Kamo High School which followed her intermediate education. She said yesterday she had lost touch with her teenage companions, but hoped to meet them again at the KIS 50th anniversary to be celebrated from October 24-25.
Betty - surname now Dunn - worked in Wellington after leaving school, returned to Northland and has spent the past 20 years doing community mental health work for the Northland District Health Board. She had three children and, with her partner, is a grandparent to 16 youngsters. One of her grandsons, Ethan Wikaira, 13, now attends KIS.
The intermediate school now has 550 students and 24 teachers.
Office staff member Ferne Kini - who attended KIS from 1981-82 - said a marquee big enough to seat 300 diners would be erected at the school for the Labour Weekend celebrations.
The reunion will kick off on October 24 with past pupils mingling while being entertained by Austyn Mills and Josh Crawford, now at high school after leaving KIS about three years ago.
Ms Kini said the pair were talented musicians who, encouraged by music teacher Graham Hughes, formerly had a band "rocking out" the intermediate school.
On October 25 photographing of decades of past pupils will begin at 10.30am, followed by a tour of the school and a short student concert before lunch, during which one-man band Eric (Beau) Adams will entertain.
The jubilee will wind up after lunch, but vans will be provided to take past pupils into the city or to Kamo for further celebrations that evening.
Ms Kini urged former students to register for the event by downloading registration forms from www.kamoint.school.nz or registering at the school office, which will be closed from Friday until July 21 for school holidays.