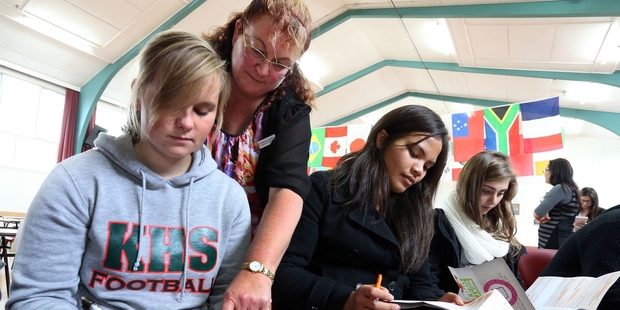 With few youths on the general electoral roll, Northland students are being encouraged to sign up.
Kamo High School students yesterday presented a forum informing fellow year-13 students about the enrolment process.
Elections New Zealand provisional statistics based on 2013 census data show only 65.29 per cent of Northland youths aged 18 to 24 are on the general electoral roll.
Northland registrar of electors Deborah Darton, who has been visiting Northland schools with information about enrolling, said schools usually preferred her to do the forum but getting students to do their own was even better.
"We write to 33 schools [in Northland] and give them the choice to get students to do the forum, so we go in and train them, or to get us to do it. Some students prefer listening to their peers rather than listening to me preaching," she said.
The presentation gave the students helpful advice and information to make sure they were ready to cast their vote on September 20.
Young people should enrol, she said. "It's their future."
Head girl Tayla Alexander-Crawford led the talk and said getting her fellow students to enroll was important.
"I don't think everyone realises the importance of enrolling and voting," she said.
Kamo High School student Jordan Bunton agreed: "I think it's really important people enroll."