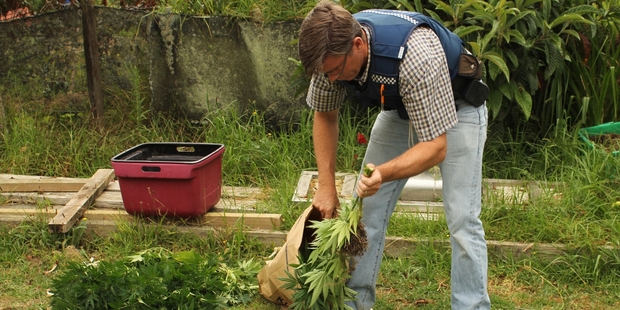 Northland's green-fingered dope growers may be some of the best in the illegal drug trade but Northland police are up to the challenge by destroying the most plants during a national cannabis operation.
Police statistics released yesterday revealed a total of 105,000 cannabis plants were destroyed during Operation Lucy and Northland topped the table with 46,224 plants ripped out or sprayed, while Bay Of Plenty came in second with 16,620 plants being taken out of circulation followed by Eastern, 14,657 plants.
During the summertime raids 92 people in Northland were arrested, with more than $10,000 cash and thousands of dollars worth of stolen property seized.
Three clan labs for making methamphetamine were also discovered during Operation Lucy, two in Northland and one in Eastern District. What also alarmed Northland police was the number of firearms seized from people involved in the drug trade who were not licensed gun owners.
More than a third of 112 firearms seized nationally by police were discovered in Northland.
Northland police criminal investigations manager Detective Inspector Kevin Burke said unfortunately yet again the region had the reputation of being the cannabis capital of the country.
He said the reason Northland continually topped the cannabis eradication operation numbers was due to the favourable growing conditions and the remoteness of the region where there were plenty of potential growing spots.
He said the social depravation also contributed to the drug problem.
"Northland is constantly a main contributor to these drug stats.
"Because of the volume of cannabis Northland police are experts at finding it. We have some very experienced staff."
Mr Burke said the obvious way to transport cannabis out of the area was to move it by vehicle, so this year road policing staff were involved and officers held checkpoints in areas they did not often visit.
He believed a significant amount of cannabis grown in Northland was sent out of the area.
Police also worked with IRD, Customs and CYF during the operation.
Northland police made referrals to CYF, after warrants at some homes, where they considered children were at risk.
National cannabis and crime operation Detective Senior Sergeant Scott McGill said the cannabis trade was a destructive force in New Zealand society.
"By destroying over 100,000 plants before they were harvested police have prevented significant social damage from occurring in our community."
Mr McGill said the arrest of 64 patched gang members or associates during Operation Lucy shows the strong connection between organised crime and the cannabis trade.
"We are very pleased with the results from this year's operation which show our commitment to restrict the influence of these organised criminal groups."
The New Zealand cannabis market is estimated to be worth between $636 million and $1.27 billion a year, according to the Ministry of Social Development.
Suspicious activity involving drugs can be reported by contacting your local police station or by calling Crimestoppers anonymously on 0800 555 111.