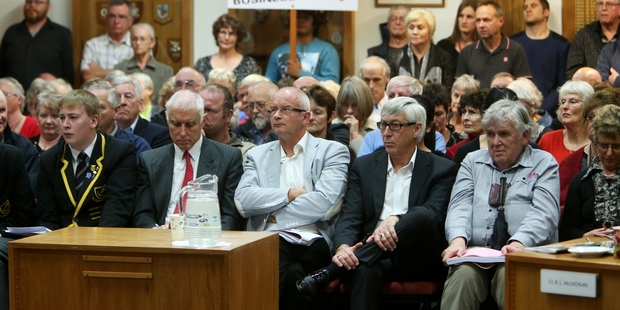 The controversial Hundertwasser Arts Centre project may not be dead yet - business leaders are pushing to get private and Government funding for the plan.
Whangarei District Council members voted 8-6 on Wednesday to dump the Hundertwasser Arts Centre (HAC) project planned for the old Northland Harbour Board building at the Town Basin.
The project was proposed to be built with $8million of ratepayer funding and $5million from other sources.
The Vienna-based Hundertwasser Foundation allowed the council to proceed with the project but its New Zealand representative, Richard Smart, told the Northern Advocate the foundation was sick of the procrastination and politicking over the issue and had now formally withdrawn its approval.
"We are very disappointed in the council's decision. I'm disappointed that this has been used by some for their own political agenda.
This would have been wonderful for Whangarei and New Zealand and it's just very, very sad," Mr Smart said.
But Whangarei businessman and chairman of Whangarei Economic Development Group Barry Trass said a group of business leaders, individuals and community members were working to get private funding to keep the project alive and had already spoken to the foundation about that.
"We feel this is too important a project to just let go. We are a group of people who have done a lot of work on this and really back the project and we're not just going to sit back and do nothing," Mr Trass said.
He said the group would look at getting private funding for the project, and go to the Government to ask for backing, too.
"We are looking at options to pursue because we believe it's too good an opportunity to pass up on. We've got a plan and will look at a different way to see if we can find another way to fund it."
Mr Trass said if the group got the funding it would still need support from the Whangarei District Council as it owned the building, possibly through a peppercorn rent or lease, and the council would have to spend money to get the building up to earthquake standards anyway.
"Most people seemed to be concerned about the ratepayer funding side of things. If we can get alternative funding, with just the contribution from the council of the building, hopefully that will satisfy those concerns and there will be more support," he said.
Mr Trass said one thing that was clear from the whole HAC process was that Whangarei needed something to give it a point of difference.
Mr Smart said the foundation would be open to a private body funding the HAC, but there were some issues.
"That design was made for that specific site and specific building, which was Hundertwasser's vision, so if it was to be done elsewhere there would have to be a whole other process," he said. "But that [private funding] might satisfy some of those concerns about ratepayer funding."
Mr Smart said by withdrawing the offer the foundation thought the council would not need to go through a special consultative process to remove HAC from its long-term plan.