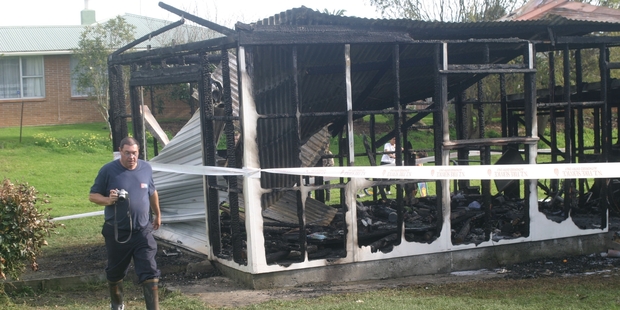 Police and the Fire Service agree the fire that destroyed a residential garage in Kaitaia bears all the hallmarks of arson.
"Put it this way, there doesn't appear to be anything accidental about this," fire investigator Craig Bain said of the Sunday blaze.
The first of two Kaitaia Fire Brigade appliances arrived at the address within four minutes of the alarm being raised at 2.33am, but the Bonnett Rd garage was beyond saving by that stage. The walls were still standing by the time the fire was extinguished but nothing was left to salvage, although the crews did prevent all but minor damage to the house.
"It was a very good save," Kaitaia police Detective Sergeant Trevor Beatson said at the scene that morning.
The rented house, which had been vacant for several days, showed nothing more than a little bubbling of paint and minor damage to spouting.
Kaitaia Deputy chief fire officer Craig Rogers said the home's power had been turned off at the mains, eliminating an electrical cause for the blaze.
Mr Beatson (phone 09 408-6500) said he would like to hear from anyone who saw anything suspicious, or had any other information that might help the inquiry.
Meanwhile, two appliances were dispatched to the address next door moments after Mr Bain arrived to examine the garage, when smoke was seen rising from the roof of a flat.
The owner of that property said his tenants were cooking chips and the firefighters' only job was to use a blower to get rid of the smoke.
There was a better outcome at Herekino on Saturday night, where the occupants of a house extinguished a fire before the brigade arrived.
Mr Bain said the fire started in a wall in the pantry, filling the house with smoke. No one was hurt, although significant damage was done.
Mr Bain added it had not been difficult to determine the cause of the fire: "Rodents and wiring don't mix."