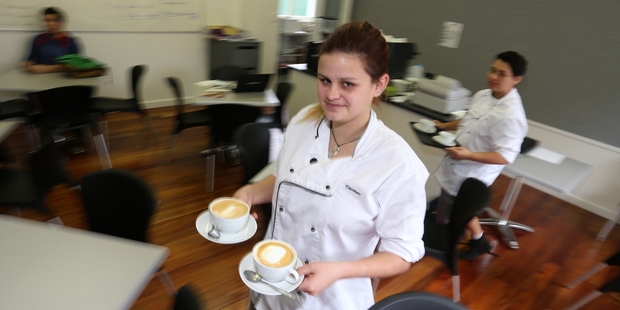 A new hospitality academy at Dargaville High School is serving up enhanced career opportunities for students.
The school is offering hospitality-related subjects at vocational-focused Level Three accreditation after a major upgrade of the old home economics block.
It now houses a fully commercial kitchen, a classroom, office, and fully kitted-out cafe with a commercial coffee making machine.
The professional grade kitchen has demonstration mirrors, an overhead projector, eight work stations, extractors and a large gas oven among the ranks of stainless steel work stations and electric ovens. The second classroom has work benches and demonstration mirrors installed for when it might also be converted to full kitchen status.
The upgrade was part of the school's five-year property plan.
Head of department Prue Burnett said: "I think it's a facility to be proud of. This is about training our students to be industry-ready."
In the Kauri Tree Cafe, named after the school's kauri logo, students learn barista and associated hospitality skills.
Teachers are willing customers at the cafe on the occasions it is open for business, and the kitchen/classroom has turned out staff dinners.
The hospitality academy students spend three periods a day on related subjects and many also study tourism as a subject, Ms Burnett said.
The academy's students all have chef aprons with their names on.
"At the successful completion of their course, they'll be presented with a set of chef's knives," Ms Burnett said.
Field trips have included visits to Auckland's food and hospitality hot spots, Ponsonby, the Viaduct, Wynyard Quarter and Britomart, and the Food Truck Garage.