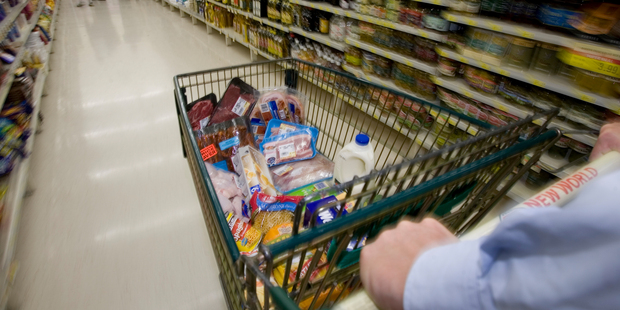 A supermarket price war is about to explode in the Regent when the new Countdown store opens just metres away from rival New World tomorrow. We went to nearby Wallace St to talk to those in the trenches at the frontline of the price war to find out what they think about it and which of the two stores they'd use ... and most don't seem to be happy, with concerns over parking, the extra traffic and noise
Una Pickerill:
She will continue to use Pak'nSave for most of her shopping because she finds it cheaper than Countdown and New World, but will use New World at times.
"I won't be using Countdown at all," she said. Ms Pickerill is not happy about the extra traffic the new supermarket will generate, particularly on Manse St - which has lots of schoolchildren walking along it twice a day during term - and Wallace St. The thought of cheaper groceries from the competition caused by the new Countdown didn't sway her either.
Cliff Brunker:
Mr Brunker has lived in Wallace St since 1957.
He isn't entirely happy at the changes since the Countdown construction started or the extra traffic it will bring. He was worried that the extra traffic on Manse St particularly could make it difficult to get in and out of his road.
"And the cheaper prices don't really bother me that much, I can go from one to the other now to check those out, but the traffic will be a problem, especially when it meets the school traffic (for nearby Whangarei Boys' and Girls' high schools and Whangarei Primary School)."

John and Beryl Tomson:
Mr and Mrs Tomson said they'll remain firm New World customers as it is New Zealand owned and operated.
"We need to support New Zealand companies as opposed to Australian companies and that's what we do," Mrs Tomson said.
"Cheaper prices are just one part of things. It'll be great when they are finished (Countdown construction) as we can have our road back, hopefully."
Margaret Gurney:
Ms Gurney is concerned about the extra traffic and noise generated by the new supermarket and has a gripe about the lack of consultation over the project.
The supermarket was granted consent without public notification as it was allowed under council zoning for the site, but Ms Gurney said nearby residents should still have been given some warning about what was happening and when, at least out of courtesy.
Ms Gurney said with Countdown also owning the first two houses on Wallace St bordering the supermarket she was concerned that it might remove them and form another entrance way into the supermarket from Wallace St.
She will use New World, but would like a pedestrian crossing put in to make it easier to cross the soon-to-be-busier road.
Gary Stewart:
Mr Stewart can't wait for the store to open so he can take advantage of the specials likely
to be offered by Countdown and New World "I can go from New World to Countdown to
check out all the special deals and I'm really looking forward to that and it's just down the road," he said. "I will be taking advantage of the price wars."
The extra traffic and parking on the street didn't concern him too much.
Colleen Cheak:
Ms Cheak is unhappy at the extra traffic and parking on Wallace St. She will still use New World. "We've had lorries coming through at all hours and it will get worse for traffic on Manse St and here."I'm a bit scared for the elderly people trying to cross the road
(Manse St) to get there."She wasn't affected by the prospect of cheaper groceries.