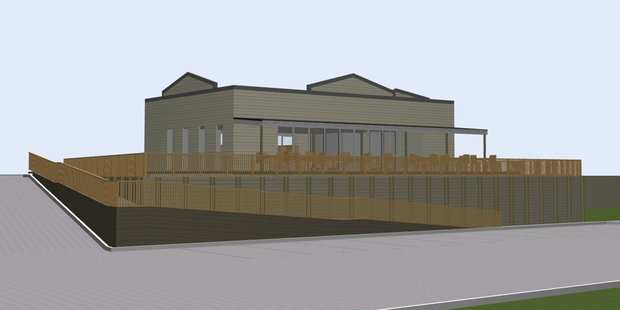 A new Hokianga information centre could be built by Christmas, replacing the previous i-Site controversially leased out to a grocery store.
Council-owned company Far North Holdings has finalised plans for a new visitors' centre and cafe to be built on the carpark above Opononi's old i-Site. The plans were unveiled in May and backed by a public meeting on June 11.
Far North Holdings, which bought the land on June 4, will build the centre and lease it to the council.
Chief executive Andy Nock said the proposal was based on specifications provided by the community. A building consent would be lodged next month with work expected to start soon thereafter. It was hoped to have the shell complete by December and the new i-Site open in January.
The building was likely to cost around $250,000, which included a ramp to connect it to the rest of the site.
Mr Nock said Far North Holdings had bought the land to secure the site's future, and to allow it to be developed into a vibrant community space.
The amount paid for the land was commercially sensitive, he said.
The previous i-Site was a joint venture with the Lloyd Family Trust owning the land and the Far North District Council paying for the building.
Mayor John Carter said the Kaikohe-Hokianga Community Board and Opononi Ratepayers and Residents Association had led a consultation process that tried to reach as many people in South Hokianga as possible.
"The fact that people are generally pretty happy with the proposal Far North Holdings has come up with shows we've listened to their concerns," he said.
Residents were not so happy last year when the council leased the purpose-built i-Site to the operator of the town's Four Square, leaving the area without a visitors' centre.
The original Four Square was destroyed by fire in June last year. The shop has since been rebuilt but is now without a tenant, though rumour has it a competing grocery store will open shortly.
Mr Carter thanked Four Square operator Paresh Patel for allowing the i-Site to share the store until the end of March, when a temporary centre was ready. Information centre staff are currently working out of a portacom.
Opononi Ratepayers and Residents Association chairman Peter Oldham said the project was a prime example of the council and the community working together for a satisfactory outcome to an initially difficult situation.
The Hokianga had to be ready for the influx of visitors expected once new developments such as the Twin Coast Cycle Trail opened, he said.
In its Annual Plan 2014-15 deliberations last week the council approved spending of $150,000 on the new i-Site's fit-out and lease.