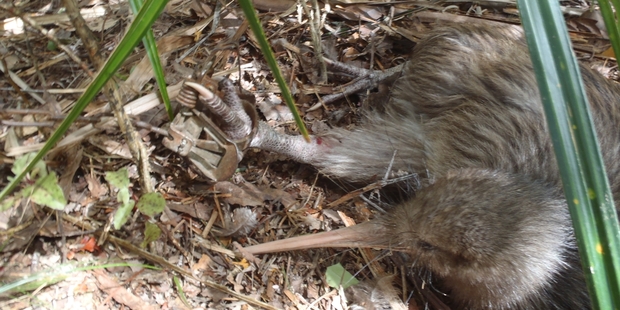 An adult female Northland brown kiwi caught in a leghold trap near Waipapa a month ago has been returned to its home in the wild after being treated for leg wounds at Whangarei Bird Recovery.
Department of Conservation senior ranger Adrian Walker said the bird had been lucky.
"Most kiwi caught in traps have to be euthanised. We've had at least two other kiwi caught in leghold traps in the mid-north in the recent past and that's two kiwi too many."
Decreasing possum numbers is great news for protection of native forests, but commonly-used leghold traps set on the ground in kiwi areas pose a significant risk to kiwi.
High possum fur prices and access to cheap leghold traps have led to an increase in possum trappers.
"Thoughtless trapping such as this can undo many years of hard work done by many dedicated locals to protect kiwi," Mr Walker said.
"I urge all trappers to raise their possum leghold traps at least 70cm above the ground, put in ramps from the ground leading to the trap and use a flour lure to attract the possum to the trap. These measures will help avoid catching kiwi."
If a kiwi is accidently caught in a possum trap, contact the local DoC office or the Native Bird Recovery Centre in Whangarei so that the kiwi can receive medical attention.
Landowners with kiwi should ensure that trappers follow safe kiwi trapping practices by insisting trappers use raised trap techniques. Permits need to be obtained if operating on public conservation land.