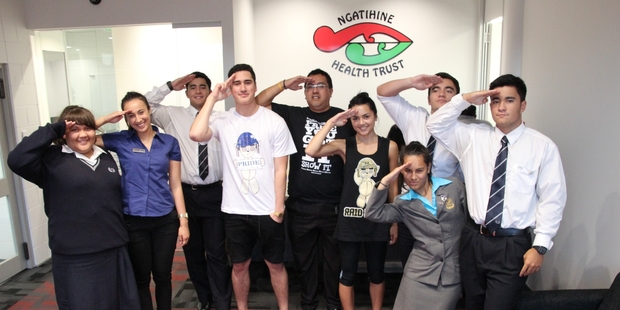 The Raid Movement peer support and action group trying to cut down the incidents of youth suicide has given Northland Community Pride a facelift.
The Ngati Hine Health Trust-supported Raid Movement has designed a new logo and become a young ambassador group for Northland Intersectoral Forum (NIF).
Last month the group presented its Raid Pride package, including a teddy bear motif, to NIF representative members. NIF has supported Raid to promote the Northland Community Pride messages: Protect-Respect-Involve-Develop-Educate.
"We felt that the Raid Movement were perfect ambassadors for Pride. They demonstrate all of the attributes Pride stands for in their work with young people," said Northland District Health Board communications manager Liz Inch.
"The new-look logo will appeal to a wide audience and will be proudly worn by members of the Raid Movement as they go about their mahi in Te Tai Tokerau."
Through support and comfort, visiting schools and taking part in community events, "Raiders" promote the mandate "Life Over Everything".
"NIF proudly supports initiatives that elevate the mana of our rangatahi, and the Raid programme clearly reflects the Pride practice and philosophy," NIF chairman Walter Wells said.
"Raid involves and is developed by our young leaders, to educate and protect their peers from harm. The programme deserves our community-wide respect and support."
Te Puni Kokiri, Northland DHB, Manaia Health PHO, Ministry of Social Development, Northland Regional, Whangarei, Kaipara and Far North District Councils, Housing New Zealand, Northland Inc, Ministry of Education, Department of Conservation, Sport Northland, ACC, Department of Internal Affairs, Northland PHO's, Department of Corrections and NorthTec are NIF members.