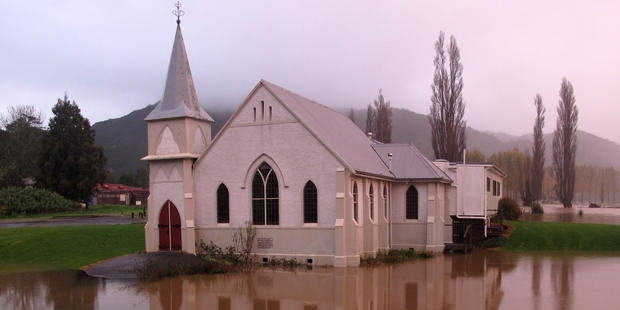 Kaeo's new flood defence scheme has passed its first test.
This week's heavy rain sent floodwaters across State Highway 10 at high tide on Tuesday, but otherwise caused little damage or disruption.
A kilometre-long stopbank between Whangaroa College and Pohue Pa, completed just last month, is designed to divert floods around the college and away from the centre of town. A series of floodgates allow water to drain from the paddocks into the river, but not vice versa. The river channel next to the college has also been widened.
Northland Regional Council land/rivers programme manager Bruce Howse said the scheme had performed as intended, although this weather was not extreme enough to really put it to the test.
Floods used to run through the college grounds, spill over the road and then into town.
The scheme was not designed to stop flooding altogether - that would require major engineering work, as well as diversion of the Waikare Creek from the town centre - but would reduce the volume and speed of floodwater flowing through town, he said.
All that remained to be done were the finishing touches such as fencing.
From noon on Sunday to 7.30pm on Tuesday, Kaeo copped 134mm of rain. Puhipuhi was the wettest place with close to 300mm. Kaeo River peaked at 3.57m at 5.30pm on Tuesday. Its highest level in the 2007 floods was 4.2m.
Meanwhile, State Highway 1 was closed at Whakapara, north of Whangarei, and at Rangiahua, between Okaihau and the Mangamuka ranges, on Tuesday evening. State Highway 12 was closed north of Dargaville and at Taheke, west of Kaikohe.
NZ Transport Agency spokesman Ewart Barnsley said all highways were reopened by the early hours of yesterday morning.
State Highway 10 just north of Kaeo was covered by floodwater at high tide about 5.30pm on Tuesday but remained open through the night. Road crews had been out all night and were back yesterday morning filling in potholes and carrying out other minor repairs.
As of yesterday morning, all local roads in the Far North were open but a few were down to one lane due to slips and fallen trees. They included Kaitaia-Awaroa Rd, Duncan Rd and Diggers Valley Rd.
Te Paki Stream, the only northern access to Ninety Mile Beach, was also reopened yesterday morning. Caution is advised because the flood left a lot of soft sand.