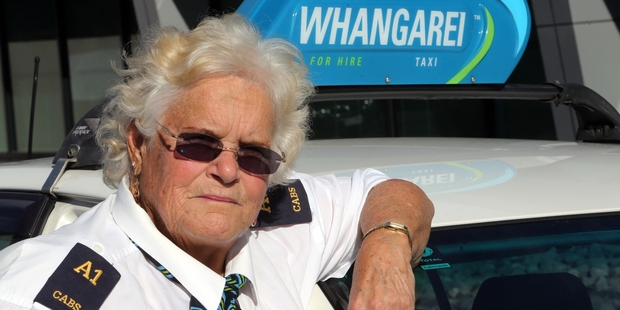 Whangarei taxi driver Marion Palmer is fuming about a series of incidents that have damaged her vehicles and knocked her confidence.
Twice in eight days the Otangarei resident and her husband Trevor Palmer have had their cars broken into and vandalised, and their garden shed burgled.
Their property was among others in William Jones Drive hit Friday night and early Saturday morning.
Mr Palmer's ageing Toyota was broken into and its ignition wiring ripped out in an attempt to start it. Possibly, frustration because the offenders couldn't drive it caused them to heavily tag the car, Mrs Palmer said.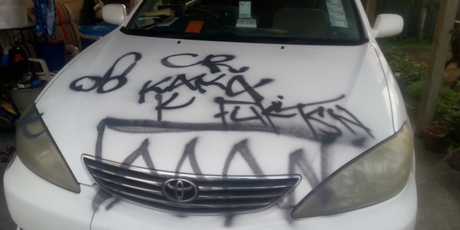 The first attack a week before was on her taxi, causing $200 in damage with further costs chalked up for an alarm and lost work. This week her husband's car need repairing.
"I'd like to get my hands on them and wring their bloody necks," a distraught Mrs Palmer told the Northern Advocate.
She said "silly things", such as garden equipment, had been stolen from their shed.
Their house, which has a burglar alarm, was not broken into but one nearby was burgled, and televisions and other electronic gear was stolen.
Mrs Palmer thinks the offenders are young but not locals.
The break-ins come only weeks after another incident left Mrs Palmer fuming - a boulder left in the middle of the road, causing nearly $1000 worth of damage to her taxi.
It happened on State Highway 14 near Maungatapere early in the morning of Sunday, May 11.
Shortly before that, another taxi driver from A1 Cabs saw the boulder but managed to drive around it.
"I did see it but didn't get time to stop or go around it. It has to be put there by someone or fallen off a truck," Mrs Palmer said.
In her 18 years as a taxi driver, she hadn't come across anything like it and believed someone played a prank because the boulder was removed after the accident. More than one person would have been needed to shift the boulder because of its size, she said.
Mrs Palmer lodged a complaint with police about that incident.
Whangarei Police said the weekend's tagging on the Palmer's car's bonnet is distinctive - TSN-FK - and likely to lead fairly easily to whoever did it. The police would like information from anyone who might recognise the tag or know something about the burglaries in Otangarei. People with information could ring Whangarei police on 4304500 or anonymously the Crimestoppers freephone line on 0800 555 111.