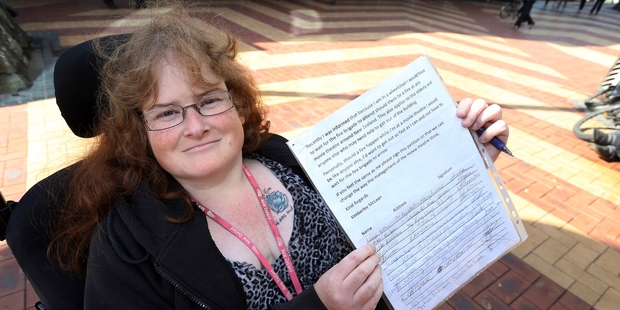 A Whangarei woman in a wheelchair wants a review of cinema fire regulations so she could leave a movie theatre without delay if a fire started.
Kimberley McLean has started a petition seeking the review after being told by a staff member at Events Cinemas in Whangarei that, if there was a fire, disabled and elderly people needing help to leave would have to wait for firefighters to arrive before they could be evacuated.
"I feel we [disabled and elderly people] should be the first ones out, not the last," Ms McLean said.
Her petition says: "Should a fire happen while I'm at a movie theatre, I would be like anyone else - I'd want to get out as fast as I can and not have to wait for the fire brigade to arrive. Please sign this petition so we can change the way the management of the movie theatre think."
With help from her friends Chris Keay and Ray Lewis, Ms McLean has collected more than 300 signatures so far.
Whangarei fire safety officer Craig Bain said evacuation rules were laid out in the Fire Safety and Evacuation of Buildings Regulations 2006, which require building owners to train people to evacuate all occupants in a fire.
Because lifts were automatically locked out of use in a fire, it was standard for people in wheelchairs to be taken out last to avoid the crush as able-bodied people rushed the exits, he said.
Cinema staff could help the disabled and elderly out as soon as possible. They did not have to wait for the arrival of firefighters, who could be delayed by another call-out or for some other reason, Mr Bain said.
Bill McClure, director of Events Cinemas' consultant company Fire Safety Net, said if a fire emergency put lifts out of action cinema staff had to get all able-bodied people out first and assemble disabled and elderly people in safe holding places designated in all cinemas. Staff would help the disabled and elderly out as soon as possible or wait with them until firefighters arrived to help them down stairs.
"Some disabled people take umbrage over waiting but, when the procedure is explained to them, they realise the rules are for their safety," Mr McClure said.
Tiaho Trust chief executive Johnny Wilkinson yesterday suggested cinemas could store special chairs made by Nelson firm Evac+Chair to promptly help disabled and elderly people down stairs in fire emergencies.
Evac+Chair director Les Armstrong said the special chairs had been supplied to Parliament, hospitals and banks, and had been used to evacuate disabled people from high-rise buildings during Wellington earthquakes. His company had sought a review of the regulations but had "run into walls".