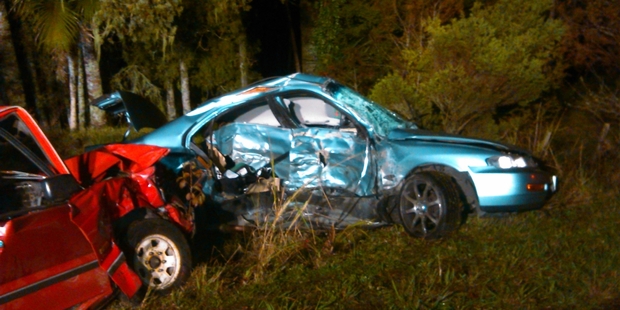 Vernon Samuels and Ryan Wikaira were born hours apart at the same hospital.
On Friday, they died together.
Yesterday, the close friends and promising rugby players were laid to rest in the same cemetery after their grieving Whangaroa families and community came together for a tangi.
Community leaders are hoping the accident will remind other young drivers they are not as indestructible as they feel, so other families do not have to endure the same grief.
Vernon (Vern Jr), of Matauri Bay, and Ryan of Kaeo, were farewelled yesterday with a tangi at Matauri Bay's Te Tapui Marae followed by burial at Te Tou O Taki urupa.
The pair, who died in a crash on Kaeo Hill on Friday, were lifelong friends born just hours apart on the same day - March 4, 1991 - at the same hospital.
Matauri Bay resident and former MP Dover Samuels, who is related to both men, said the community was in shock.
He estimated more than 400 people crowded the small marae to pay their final respects. Some had come from as far away as Tainui to show their support.
"It has been a shock to our community to lose these young, vibrant men at the beginning of their lives.
"Nobody can really console the parents and wider whanau, but there has been a tremendous outpouring of support," he said.
Mr Samuels said they were "good boys with bright futures ahead of them". Their families' hearts also went out to the other driver injured in the crash.
The key theme to emerge from the whaikorero (discussions) of the past few days was the danger of the youthful sense of invincibility combined with driving and alcohol.
Police were not yet commenting on the cause of the crash, including whether alcohol was involved.
However, Mr Samuels said "you don't have to be Sherlock Holmes" to know that a few drinks followed rugby training or a victory.
"That's the tradition and it shouldn't be knocked, but that should not give rise to driving when you've had enough. Celebrate and have a good time, but make sure you depart with a safe driver."
Mr Samuels said such tragedies did not discriminate by age, but youth were full of energy and "they think they are invincible, indestructible, and take chances they really shouldn't".
Kaumatua and kuia had already been talking to young drivers in the area after wheelies and donuts started appearing on the dangerously steep road winding down to the bay.
The 23-year-olds died when their car lost control heading south on State Highway 10 about 12.15am on Friday. The car went into a spin and clipped the back of a truck and trailer heading north before colliding with a second north-bound vehicle following about 200m behind, a ute driven by the truck driver's wife.
A back-seat passenger in the car suffered moderate injuries and managed to climb out of the wreckage before emergency services arrived.
The driver of the ute, from Maramarua in North Waikato, was left with broken ribs. She and her husband had been heading to Taipa Speedway for the Queen's Birthday Weekend races.
The police Serious Crash Unit returned to the scene on Saturday to carry out further measurements.