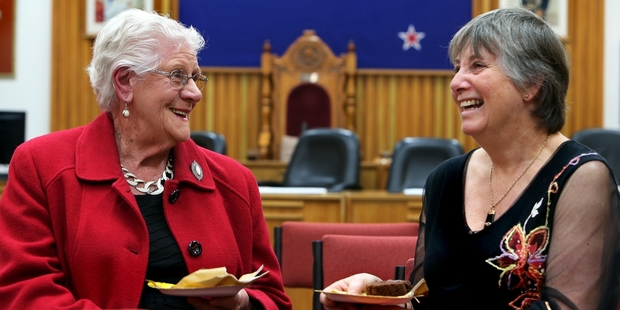 "Happy birthday, dear Whangarei, happy birthday to you."
After karakia led by Te Warahi Hetaraka and mihi from Richard Shepherd, the Whangarei District Council waiata group sang the birthday song in English and Maori yesterday before a cake was cut celebrating Whangarei's 50th anniversary as a city.
District Mayor Sheryl Mai sliced the cake with help from Barbara Craft, of Kensington, whose late uncle, Jack Johnson, was mayor when Whangarei borough's population passed 20,000 and it was declared a city on May 21, 1964. Sue Abbott, of Kamo, also had a hand on the cake knife. She was born in Kawakawa on the day Whangarei became a city and celebrated her 50th birthday yesterday.
Ms Craft, Ms Abbott and Gay Lang were special guests at the birthday party. Ms Lang was a Brownie on a Girl Guides' float in a 1964 parade celebrating the new city status.
Longest-serving councillor Crichton Christie - who was 12 in 1964 - described how the Whangarei borough and Onerahi Town Board area united to reach city population. Then attention moved to a tasty spread.
Mayoral communications officer Sue Halliwell said planning for celebrations of the city's golden anniversary in November would begin soon.
A baby born at Whangarei at 5.45am yesterday was hoped to be the first new arrival on the day the city turned 50, but the parents are from Kaitaia.
Ms Halliwell said two Whangarei women were in labour at Whangarei Hospital yesterday afternoon. One was expected to produce the first city golden anniversary baby.